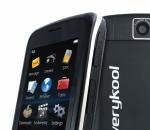 This phone from InfoSonics and verykool is apparently only coming to Latin America but I like it. I like the looks of it. It has a 2.4" TFT Tocuhscreen, FM radio and Bluetooth. It's also a world phone so you can use it anywhere basically and it comes with microSD slot and the ability to be a webcam when connected to your computer. It's got a 2mp camera so don't expect much there, but it can play mp4 and mp3 files for audio and video on the go. It's a candy bar style phone that weighs in at 95grams with dimensions of 102.5mm x 50 x 14.2mm with talk time of three hours and standby up to 200 hours.
–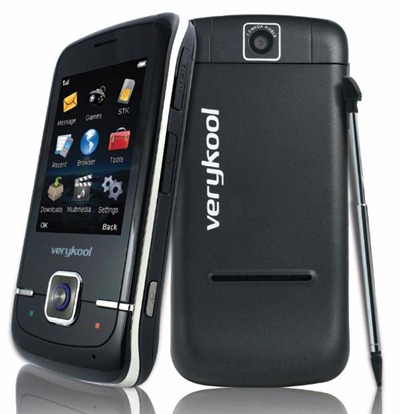 "We are enthusiastic about the potential for this product," stated Joseph Ram, president and CEO of InfoSonics. "The verykool® i270 features an integrated 2 Megapixel camera with video capabilities, which becomes a web cam by simply connecting it to a computer. The verykool® i270 also offers the ability to add external memory (microSD).
"The verykool® i270 is part of our overall strategy to enhance our product lineup and add new models to our current product offering in Latin America through our verykool USA, Inc subsidiary."
Technical Specs
Technology : GPRS Class 12 / EDGE)
Type & Size : Bar Type (102.6 x 50 x 14.2mm)
Weight : 95g
Ringtones : 64 Polyphonic Ringtone + Real Tones
Screen : 2.4" TFT Touchscreen
Connectivity : Bluetooth, USB1.2
Band : Quad band
Battery : Talk time 3 hours / Standby 200 hours *
Camera : 2MP CMOS Camera, Camcorder
Data : WAP 2.0, Email, MMS, JAVA
Memory : 512×256(Mbit), T-Flash External Memory Supporting
Multimedia : Mpeg4/H.263 Video Recording/Playback, MP3, AAC, AAC+(e) Playback
Extras : Speakerphone, Photo phonebook (up to 1000 contacts), PC Sync, Web Cam, Calendar/Appointments, Predictive Text Input, Unit & Currency Converter, Games, MP3, Sound Recording, 3.5mm Audio Jack.
Megapixel Camera
Capture the images only you and your lifestyle can provide. 2.0 Megapixels is just what you need in order to see the world your way, and the i270 brings it to you.
Web Cam
Be seen in style; your style. The i270 automatically becomes a web cam when connected via USB.
MPEG4
A different way of looking at life. Get the most out of it with video and multimedia recording on the i270 and viewing on its large 2.4" screen.
MP3
Music to your ears. Listen to your MP3 files in stereo with the excellent audio quality that only the i270 can bring.
PC Sync
Synchronize your life. Browse the different applications on your cell while it charges through your PC's USB port.
Bluetooth
The world is at the palm of your hand. Share data in style between wireless Bluetooth electronics in an easy and convenient way.
MicroSD
Life without limits. Increase storage capacity on your i270 with enough space to store your must-have files.
Speakerphone
Life uninterrupted. In the car, or preparing sushi, you need your hands to be free without losing reach of your friends. Equipped with speakerphone, you can carry on with your conversation and your life.
World Phone
Be global. The i270's compatibility with worldwide communication technologies allows you to travel with your cellular and stay communicated around the world .
Touchscreen
Interact with the 2.4" TFT Touchscreen and experience your phone like never before.
FM Radio
Now you can listen to all your favorite stations whenever or wherever you are.
About InfoSonics Corporation
InfoSonics is one of the premier providers and distributors of wireless handsets and accessories serving Latin America. For the wireless telecommunications industry, InfoSonics provides flexible and cost effective solutions, including product assembly, purchasing, marketing, selling, warehousing, order assembly, programming, packing, shipping, and delivery. InfoSonics supports manufacturers in moving their products to agents, resellers, distributors, independent dealers, retailers and wireless network operators in Latin America. For additional information, please visit www.infosonics.com.
About verykool USA, Inc.
verykool USA, Inc. is a wholly owned subsidiary of InfoSonics Corporation which provides the design and manufacturing oversight of InfoSonics' verykool® proprietary line of mobile phones.
About verykool®
InfoSonics' verykool® proprietary line of mobile phones covers a full spectrum of product offerings, including entry level handsets and full featured phones, both mid-tier and high end. The verykool® phones are compact, stylish handsets, available in multiple fashion color options and filled with the most popular features demanded by consumers, such as, audio and multimedia players; cameras; PC Sync; expansion memory slots; and GSM 'world phone' standards. InfoSonics is initially focused on selling its proprietary verykool® line of products to carrier customers in Latin America, with the potential for geographic expansion opportunities in the future. To view InfoSonics' verykool® product lineup please visit www.verykool.net and our verykool® members participation zone at www.verykool.net/zone