I wish I had the extra money for one of these, I would love to have one, but having three kids very much limits any extra spend money you might have floating around sadly. I guess I'll get one eventually though, most likely when the next generation comes out and the originals drop in price. Oh well, if you've got the extra cash you can stop in a Microsoft Store and get your own Surface for $499 and don't forget to pick up some accessories while you're there. Official PR below for you: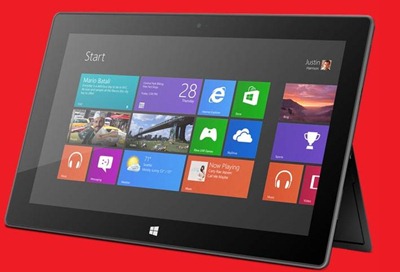 Microsoft Corp. today announced that its new PC, Microsoft Surface, is now available for purchase at all Microsoft retail, holiday and online stores in the United Statesand Canada. Designed to be the ultimate stage for Windows RT, Surface is unique and represents exceptional value, providing an immersive entertainment experience and a foundation for getting things done. With a starting price of US$499,1 Surface will be available online at http://www.microsoftstore.comin Australia, Canada, China, France, Germany, the United Kingdom and the United States. In China andHong Kong, Surface will be available online at Suning. More details are available at http://www.surface.com.

A variety of Surface accessories are also available for purchase, including Touch Covers in five vibrant colors — black, white, magenta, cyan and red — priced at US$119.99, so customers can express their personal style.2 Customers also have the option to purchase a Type Cover in black for US$129.99, which adds moving keys for a more traditional typing feel.

At all Microsoft retail and holiday store locations, knowledgeable staff are on hand to answer questions and help with Windows RT and Surface setup, so customers can have a great out-of-the-box experience and walk out the door with a product that is personalized for them. Customers can visit http://www.microsoftstore.com to find a Microsoft retail store nearest them.

First unveiled in June, Surface represents an extension of the Windows experience, letting customers work, play and connect with others. From its ultralight durable casing, integrated kickstand and Touch Cover, which allow customers to be productive anywhere, to a full-sized USB port, 16:9 widescreen, high-definition display and 22-degree angle that make it optimal for viewing and sharing content easily, Surface lets customers seamlessly transition between entertainment and creation.

A complete list of Microsoft retail store and holiday store locations is available at http://content.microsoftstore.com/home.aspx?WT.mc_id=onlinestore_footertray .

[1] Starting price for Surface 32 GB without black Touch Cover. [2] Available Touch Cover colors vary by market.