Kingston has just announced the second generation of their MobileLite Wireless, the G2. This new one features a built-in battery, Ethernet connection, and 3G dongle support along with everything else that made the first generation so popular. The G2 has a 4640mAh 3.8v battery for mobile charging, Ethernet port for wireless Internet routing, and Wi-Fi bridging. The G2 let's you store and stream data wirelessly to your mobile devices so you don't have to worry about onboard storage space. It can use a USB flash drive or memory card like a microSD and it's shipping later this month, but I don't see a price listed anywhere, but it does come with a 2 year warranty. Details below..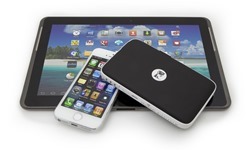 Kingston Digital, Inc., the Flash memory affiliate of Kingston Technology Company, Inc., the independent world leader in memory products, today announced the MobileLite Wireless G2. Shipping later this month, MobileLite Wireless G2 allows smartphone and tablet users to extend onboard device storage and stream and share content with multiple users. Additionally, the ultra-portable MobileLite Wireless G2 has a 4640mAh 3.8v battery for mobile charging and a direct Ethernet port for wireless Internet routing, Wi-Fi bridging. The USB port also allows 3G dongle support.

Kingston's new MobileLite Wireless G2 is the best solution for more mobile device storage capacity. Instead of deleting files from a smartphone or tablet to create room, users can wirelessly transfer photos, movies or music to a USB drive or Flash card. It's perfect for entertainment or travel as pictures, videos, songs or documents can be shared and streamed with multiple users. In addition, photos and videos can be sent directly to the social media platform of choice without the need to connect to a PC.

On-the-go users will love the MobileLite Wireless G2 for its device charging and Ethernet-ready features. Fully charged, the internal battery of the MobileLiteWireless G2 is capable of charging most smartphones twice1. To enable users to stay constantly connected, the device supports a direct connection from a 3G wireless Internet dongle and also has a direct Ethernet connection thus allowing MobileLite Wireless G2 to serve both as a portable router or shared network (NAS) drive.

"MobileLite Wireless G2 is a great device to share pictures, movies, songs or files wirelessly with friends and family," said Andrew Ewing, Flash memory business manager, Kingston®. "We have increased the battery life to up to 13 hours of continuous use so it works perfectly to keep your smartphone or tablet charged, or keep your children entertained on long trips."

MobileLite Wireless G2 is backed by a two-year warranty and legendary Kingston reliability. For more information, please visit www.kingston.com.

Kingston MobileLite Wireless G2 Features and Specifications:

· Unload content to a card or USB drive

· Send pictures to your favorite social media platform

· Stream different content to multiple devices at once

· Charges your smartphone up to 2 times from a full G2 battery1

· Supports SD/SDHC/SDXC and microSD/SDHC/SDXC

· Supports standard USB drives

· Includes 3G dongle support for direct connections2

· Features Ethernet port for broadband Internet on the go

· Inputs for Storage: USB and SD — reads SD, SDHC, SDXC and microSD/microSDHC/microSDXC (with included adapter)

· Supported File Systems: FAT, FAT32, NTFS, exFAT

· Dimensions: 129.14mm x 79.09mm x 19.28mm

· Weight: 171g

· Wireless Network Interface: Wi-Fi 802.11g/n with wireless security (WPA2)

· WLAN Ethernet Port to function as a mobile router

· Rechargeable Battery: Up to 13 hours of continuous use; built-in Li-ion 4640 mAh 3.8v battery

· Local Storage3: Wirelessly transfer files to and from the MobileLite Wireless app and the MobileLite Wireless hardware

· Camera Roll Support3: allows users to move photos from their mobile device to MobileLite Wireless in order to free up space

· Cable: USB to micro USB cable included

· Operating Temperature: 0 – 40°C

· Storage Temperature: -10 – 45°C

· Guaranteed: two-year warranty, free technical support

· Customizable Device Name: (SSID) User selectable Wi-Fi priority list when there are multiple APN/Key available

· File Support4:  MobileLite Wireless can store any file type. Playback and viewing are based on the files supported by the mobile device.

· General File Format Support4:

§ Audio: MP3, WAV

§ Video5: m4V, mp4 (H. 264 video codec)

§ Image: jpg, tif

§ Document: pdf

1 Based on internal testing using iPhone 5.  Battery life varies depending upon the usage and user application functions. Battery is not replaceable.

2 3G service from the carrier required. 3G Dongle support may be limited by carrier.

3 Requires the MobileLite Wireless app.

4 Please check the user guide of your mobile device for a full list of supported files.

5 For Android and Kindle Fire, video support is limited to 2GB.