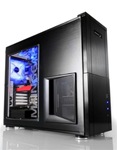 Maingear has just announced three serious gaming PCs. These things come standard with closed loop liquid cooling, ATI 5000 series cards in crossfire and pre-overclocked CPUs with quite a bit of ram in them as well. There's three configurations, the highest being $5,149 is a Corei7 975 that's overclocked to 3.6GHz with 12gb of ram and two ATI Radeon 5870s with blu-ray burner and an 80gb Intel SSD along with a 1.5TB Western Digital HDD. The other two configurations are slightly lower priced, but aren't too shabby themselves and with them you can also opt to get the SSDs and the Blu-Ray burners is you might want them. You can choose either the Corei7 950 that's overclocked to 3.3ghz or the Corei5 750 that's been overclocked to 2.93ghz. They all come with a variation of Windows 7 64bit, either Professional or Home Premium. They're exclusively available at CompUSA, Tiger Direct and Circuit City.

MAINGEAR Computers, award-winning builders of high performance custom computers for PC gamers and enthusiasts, announces the new F1X Gaming PC series available exclusively through Tiger Direct.com, CircuitCity.com, and CompUSA.com.   The F1X series features options that will satisfy the most power hungry gamers including a pre-overclocked Corei7 processor, maintenance free X20 liquid cooling, 12GB of triple –channel DDR3 memory, a Blu-ray burner, and a 80 GB SSD.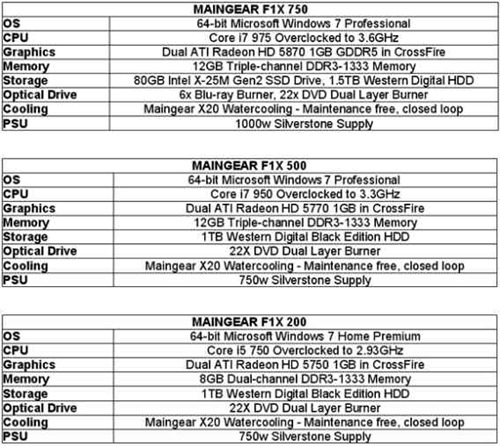 About MAINGEAR
MAINGEAR is the premier high performance systems integrator in North America. MAINGEAR custom builds gaming, home office, mobile, multimedia, small business and 3D workstation solutions of the highest quality, which have won them many editors' choice awards in every major computer publication such as C-Net, [H]ard|OCP, Maximum PC, CPU Magazine, etc. For more information on MAINGEAR, please visit www.maingear.com or call, toll-free, (888)624-6432.