This might be interesting if I was already running an Android based phone.
Myriad Group AG , a global leader in mobile technology having shipped over 3.7 billion software applications on more than 2.2 billion phones, today announced the launch of Myriad Alien Dalvik, enabling Android apps to run on non-Android platforms. The launch opens up the Android experience to new audiences, generating new revenue opportunities for mobile operators, OEMs and app store owners.
Building on the launch of Dalvik Turbo, Alien Dalvik signifies Myriad's latest Android innovation by enabling Android apps to operate on a much wider range of platforms and devices. As a result, operators, OEMs and application store owners can now easily access the Android ecosystem and deploy Android applications across multiple device operating systems, all without compromising performance.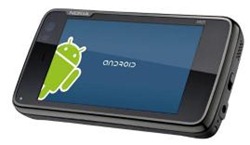 Alien Dalvik enables the majority of Android applications to run unmodified, allowing application store owners to quickly kick start Android application store services by simply repackaging Android Package (APK) files.
From a user perspective, Alien Dalvik is completely transparent. Alien Dalvik applications appear as native and can be seamlessly installed on device without user disruption. All the user sees is that he now has access to a wider range of applications, thus encouraging a higher frequency of downloads and increased ARPU.
"The proliferation of Android has been staggering, but there is still room for growth. By extending Android to other platforms, we are opening up the market even further, creating new audiences and revenue opportunities," said Simon Wilkinson, Chief Executive Officer, Myriad Group.
From application components to complete device integration, Myriad provides best-in-class Android solutions. As a founding member of the Open Handset Alliance (OHA), Myriad has been playing a key role in Android solutions since its early days. When partnering with Myriad for Android application development or porting, operators, OEMs and application store owners will benefit from Myriad's rich heritage in Java technology and unique Android expertise.
Myriad Alien Dalvik will be commercially available later this year on the MeeGo platform. Other platform support will be announced in the coming months. Alien Dalvik will be demonstrated for the first time on the Nokia N900 at this year's Mobile World Congress in Barcelona from February 14th-17th at the Myriad hospitality suite located at The Avenue, Stand AV91.
About Myriad
Myriad Group AG is a global leader in mobile technology and has shipped over 3.7 billion software applications in more than 2.2 billion mobile phones. Its comprehensive portfolio includes browsers, messaging, Java, social networking, user interfaces and middleware for all types of mobile phones, from ultra-low cost handsets to advanced smartphones.
The company provides both individual components and complete solutions, which enable handset manufacturers and operators to deliver amazing experiences on mobile phones. Myriad also develops USSD-based customer self-care platforms that deliver over 10 billion messages a year to 220 million mobile users across more than 35 mobile operators worldwide.
Myriad was created from the combination of industry leading companies, Esmertec and Purple Labs. It operates worldwide, with offices in Switzerland, France, UK, USA, Mexico, China, South Korea, Taiwan, Japan and Australia. Headquartered in Duebendorf-Zurich, Switzerland, Myriad is listed on the SIX Swiss Exchange (SIX Symbol: MYRN). For more information, please visit www.myriadgroup.com.