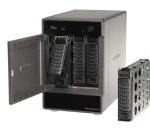 Above is their title of the press release, it's a bit of an exaggeration I would think. but these new NAS boxes from Netgear do offer quite a lot of features that we want and will appreciate. prices on these media centric NAS boxes range from $599 up to $1349, price varies greatly if you get it with the hard drives or not.  They supposedly integrate easily with TiVo and make full use of DLNA services for quickly andd easily streaming media to certified devices.
"NETGEAR's ReadyNAS Ultra family is a major breakthrough, converging mobility and content consumption," said Drew Meyer, director of storage marketing at NETGEAR. "ReadyNAS has always been an excellent choice for storing, sharing and protecting media content, but now our technology firsts take that content to the next level. Users may now shift media from any networked location onto nearly any device and unplug their direct-attached disks."
  --  NETGEAR ReadyNAS Ultra products are the first TiVo compatible DVR
      network storage systems. Users can now alleviate storage capacity
      concerns by streaming HD programming content to any TiVo box in the
      house at a later date without additional software or computers.
  --  NETGEAR ReadyNAS Ultra products are the first storage systems with
      Skifta media-shifting capabilities, so users can access their private
      media libraries remotely from any DLNA® certified(TM) device without
      worrying about the physical location of their content.
  --  NETGEAR ReadyNAS Ultra products are also the first-ever network
      storage systems to include transcoding. The Orb integration means that
      a ReadyNAS Ultra device automatically formats and sizes streaming
      video content for mobile devices or browsers - on the fly.

The NETGEAR ReadyNAS Ultra 4 ($599.99 MSRP diskless and $899.99 MSRP 2 x 2 TB) and Ultra 6 ($899.99 MSRP diskless and $1349.99 MSRP 3 x 2 TB) are available for immediate pre-order at amazon.com, with shipping starting in mid-July. The NETGEAR ReadyNAS Ultra 2 will be shipping in October.
Web Site: http://www.netgear.com/