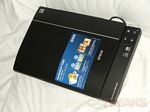 Up for review today I've got a scanner from Epson called the Perfection V330 Photo Scanner. By the name you could guess it's made for photos so it can scan negatives, but you can do a lot more like OCR and it also can act like a copier, scanning directly to your printer. The scanner includes a few software programs that work well with it. The V330 itself is fast and quiet, but it has one small problem, read on to learn more..

No video today for you, just the traditional unboxing.
The scanner comes packaged very well in it's Epson branded box.
There's a few things included with the scanner like the power supply, USB cable, negative holder, quick start guide and the software/driver disc.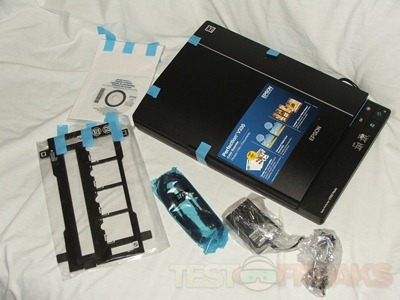 The scanner itself is black plastic, and there's four buttons located on the bottom edge. The buttons are for power, scan to PDF, scan to email and scan to printer actually. I like the last one, it essentially turns the scanner into a copier which is a nice feature.
The back edge of the scanner is where you'll find the hinge that is very expandable. On that back edge you'll also find the power connection and the USB port. The power and USB connections just seem to be in an odd space really, I don't know why they would be near the front like they are and not on the back or near the top of the scanner.
Opening the lid you'll find the scanning glass as expected. The top half is white, but there's a handle there that you can pull to reveal the negative scanning part of the V330.
The negative scanner also fits onto the scanner glass, there are spaces just for it to fit.
Specifications:
Epson Perfection V330 Photo Scanner
Model: B11B200211
Overview:
* Scan 35-mm film, photos, documents, receipts, artwork, books, magazines, 3D objects and more
* 4800 x 9600 dpi resolution
* Built-in Transparency Unit
* ArcSoft Scan-n-Stitch Deluxe
* ReadyScan LED technology
* One-touch Easy Photo Fix
* Digital Dust Correction
* Scan to PDF/e-mail
* OCR software included
Eco Features:
* Designed to be recycled
* Mercury-free LED light source
* ENERGY STAR qualified
* LED light source — lower energy consumption than a fluorescent lamp
* Epson America, Inc. is a SmartWay Transport Partner
Specifications:
Scanner Type: Flatbed color scanner with TPU (built-in)
Optical Resolution: 4800 dpi with Epson MatrixCCD
Hardware Resolution: 4800 x 9600 dpi with Micro Step Drive technology
Maximum Resolution: 12,800 dpi with software interpolation
Color Hardware Bit Depth: 48-bit internal/external
Grayscale Hardware Bit Depth: 16-bit internal/external
Transparency Unit: Scan 35mm negatives and slides
Maximum Read Area:  8.5″ x 11.7″
Interface: Hi-Speed USB 2.0/ USB 1.1
Physical Dimensions:
-6.2 lb
-11.2″ W x 16.9″ D x 2.6″ H
Software:
* Epson Scan with Epson Easy Photo Fix technology
* ABBYY FineReader Sprint OCR
* ArcSoft MediaImpression
* ArcSoft Scan-n-Stitch Deluxe
Warranty: One-year limited warranty in the U.S. and Canada.
Price: $119.99
Price: $117.99 (from Amazon at time of review)

Installation is quick and easy and basically automated.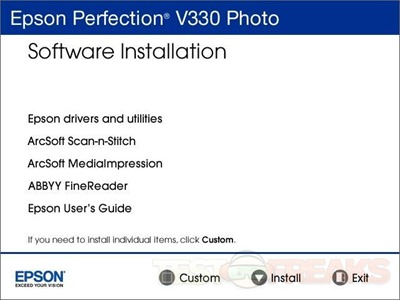 When you're done you'll find a few new icons on your desktop: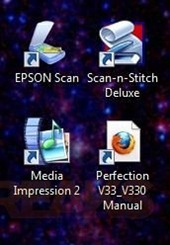 The main program here is of course the scanning software. There are four modes you can pick from, Full Auto, Home, Office and Professional.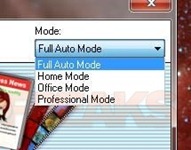 Full Auto mode is just what it sounds like, not much for the end user to do except hit Scan and wait.
Under the Customize tab you won't find much really:
The other modes offer more features as you might expect, with the ability to configure or set things how you want them.
Under the Configuration option for the three modes besides Auto you'll find three more tabs to make adjustments.
Included also is Arcsoft MediaImpression software for handling media basically.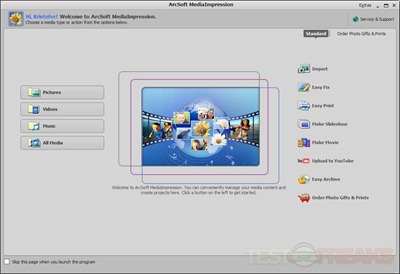 The other program included is Arcsoft Scan-n-Stitch Deluxe which is used to scan things larger than the scanner and then you'll put them back together to form one large image.
I mentioned earlier about the ability of the hinge to expand, and here's just how much it expands:
That's a whole hardback book in there that's over 1 inch thick, so you'll be able to easily scan large things in it.
Scanning with the V330 is quiet and relatively fast and it works very well. I scanned a few things including pictures, black and white text and that same book I showed you earlier.
As far as negatives, sadly I couldn't find any in my home. They're packed away somewhere since we went all digital a while ago. I know I have some somewhere, but where I have no clue at all.
I did though try out the OCR program which is ABBYY FineReader 9.0 Sprint and it worked perfectly.
When scanning via OCR you can scan to Word, Excel or PDF and you can scan and then email them as well. I scanned the booklet that came with the V330 and it came out perfectly.
Conclusion:
The Epson Perfection V330 Photo Scanner offers a lot of features at a relatively low price, it's fast and quiet and it works very well.
The OCR part works great, no issues there, and I really like the ability to use it as a copier.
The included software works well, not that I would use most of it, especially the ArcSoft MediaImpression which I find rather pointless. The other stuff can be useful like the Scan-n-Stitch and the OCR software.
Yes it's a big scanner, but that's a good thing really as you can scan large documents and photos. The hinge expands a lot to allow scanning thick books and even 3D objects.
I really can't find anything wrong with this scanner other than the horrible placement of the power and USB connections, I don't understand the thinking behind the design.
Stand alone scanners have their place I guess, but I think we're going to see them phased out really except for high-end professional usage. We have all of these all-in-one units that work just as good, at least for me they do.
Pros:
+Easy install and setup
+Works just like a copier
+Good scans
+Quiet operation
+Fairly fast scanning
+Hinge expands a lot for scanning large things
Cons:
-Odd power and USB placement
| | |
| --- | --- |
| Grades: | |
| Overall | |
| Design | |
| Performance | |
To learn more about our review policy please visit this page HERE.