So did you buy a Nintendo 3DS like I did on launch day? I don't know about you but I'm unhappy about it still, especially since they came out with the 3DS Xl which they should have came out with first I think. I think I need to sell my 3DS and get a 3DS XL, I might be happy then but I don't think my games are transferrable. Anyway, if you didn't get a regular 3DS then now you might want to grab an XL as it's coming bundled with Mario kart 7 pre-installed for you.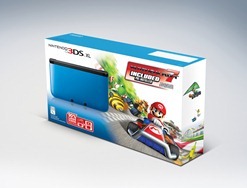 Mario Kart fans are getting a limited-edition bundle to help keep their engines revving through the holidays. On Dec. 2, Nintendo is offering a Blue/Black Nintendo 3DS XL with Mario Kart 7 pre-installed on the system for a suggested retail price of $199.99. If purchased separately, the system and the game would be offered at suggested retail prices of $199.99 and $39.99 respectively, making this another great Nintendo value for holiday shoppers.

The portable Nintendo 3DS XL system offers two screens that are 90 percent larger than the original Nintendo 3DS and let owners see even more amazing 3D details. Owners can watch their karts zoom across the track in 3D without the need for special glasses. The system also includes the Nintendo eShop, a one-stop shop for downloadable new games, Virtual Console games, free game demos and full downloadable versions of retail games. Users can also enjoy augmented-reality features and Nintendo Video, a channel filled with free one-of-a-kind 3D videos.

Mario Kart 7 lets karts race through the air and under the sea for the first time. On big jumps, karts deploy a wing to help them glide over the track. When karts dive underwater, a propeller pops out to help the kart cruise across the sea floor. Players can customize their vehicles further to enhance their driving style or play to certain types of terrain and even race as their own Mii characters. Multiple courses challenge players to race for the checkered flag.

For more information about Nintendo 3DS XL, visit http://www.nintendo.com/3ds.