Cooler Master has recently introduced the CM Storm QuickFire TK mechanical keyboard which is a compact gaming keyboard with backlighting and a few other features. It's a mechanical keyboard but Cooler Master gives you a choice when it comes to what type of keys you want or prefer, you can get Cherry MX Blue, Red or even Brown and for my review they sent over the Blue version. The QuickFire TK also features LED backlighting that mostly matches the type of keys you selected, blue for blue, red for red but you get white backlighting if you select Cherry MX Brown keys. The blue keys that I got with this QuickFire TK are the the very clicky ones and offer a lot of tactile feedback while typing, this is something that I personally prefer, you may not so that's why Cooler Master gives you a choice. So read on to learn more about the other features of this great mechanical keyboard and see what I think about it…
The CM Storm QuickFire TK came in just a white box, I don't think this is the actual product packaging but I could be wrong. A white box is just fine though, it works.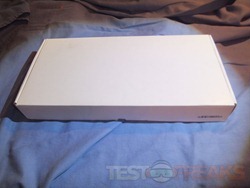 When you open the box you'll see the keyboard wrapped in a thin layer of styrofoam for protection.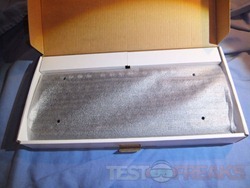 Not much comes with the keyboard, just a braided style USB cable and a ring style key puller.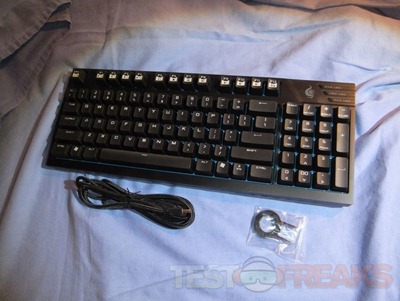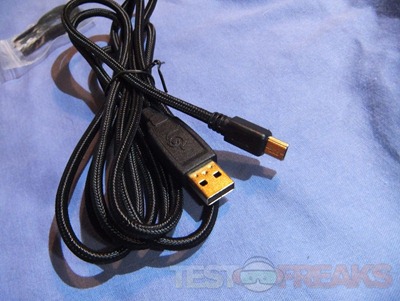 The keyboard is keyboard is black in color with what looks like white lettering or markings on the keys, but it's really more translucent to let the backlighting through. The QuickFire TK is small in size measuring only 14.9(L)*5.4(W)*1.3(H)inch but it's heavy for it's size coming in at 1.2lbs.  It does feel very solidly made, so I guess the weight does count for something.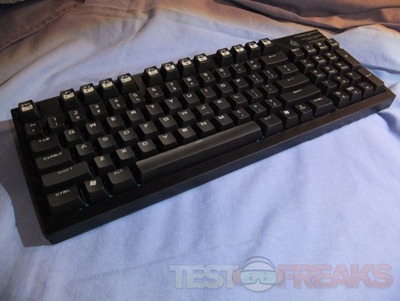 The back of the keyboard has the CM Storm logo on it and not much else.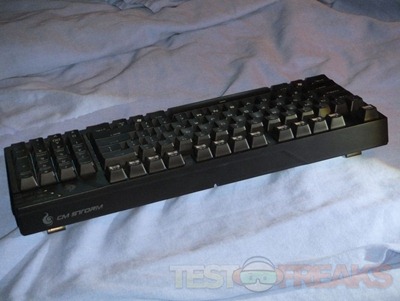 Let's take a look at the actual keyboard, we'll start across the top with the Function keys which do double duty actually.
The Escape Key is for Escape but also to set the keyboard into a rollover mode which can be NKRO or 6KRO. To access this though you need to press three keys really, the Function Key, the 6 or N and then the Escape key to activate the modes. The F1 through F4 function keys are also for brightness settings of the backlighting. F1 is for just on and off, F2 and F3 are brightness up and down through five levels and then the F4 key is for the backlighting modes. There are three modes, Gaming Cluster which lights up WASD only, Full LED backlighting where everything is lit and then a Breathing mode where the backlighting slowly goes dim to bright and back again.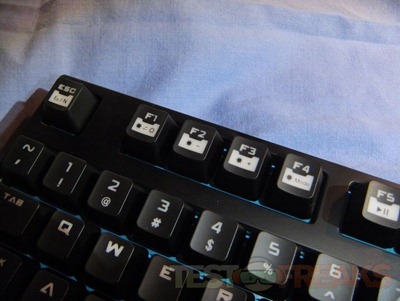 Function keys F5 though F8 are your basic multimedia functions. F9, F10 and F11 are volume control with mute and then up and down. The F12 key is a Windows Key lock key, when activated it deactivates the Windows Key so you don't press it accidentally while gaming and get kicked out which can happen.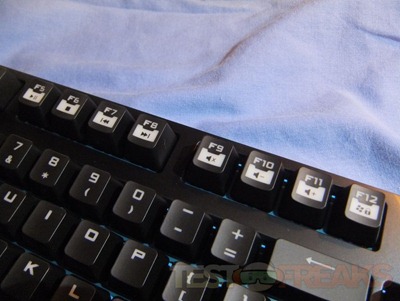 The QuickFire TK does have a separate numpad but it like the function keys does double duty. When numlock is turned on your can use the number keys, when turned off you use the cursor and other keys.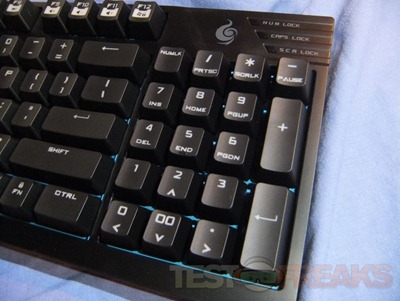 On the bottom right side of the bottom row of keys you'll see the Function key to be used with the Function keys I mentioned earlier.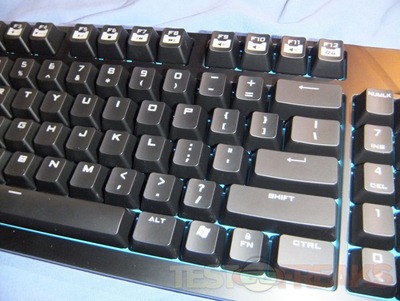 The rest of the keys are just like any other, I should note though I do rather like the font used on this keyboard.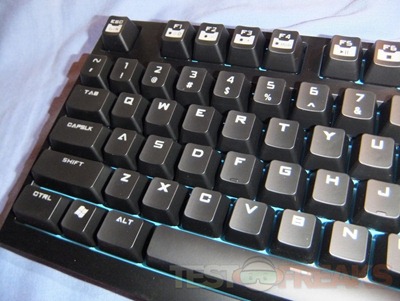 Moving to the bottom you'll find four rubber non-slip feet and channels to route the USB cable though if you want.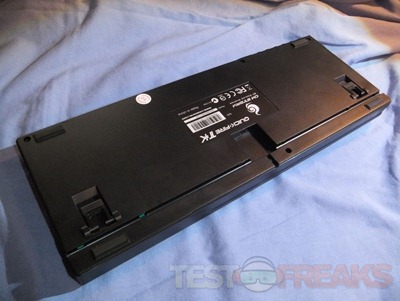 The QuickFire TK does have retractable feet so you can bring the keyboard up to an angle if you prefer typing that way, and I do.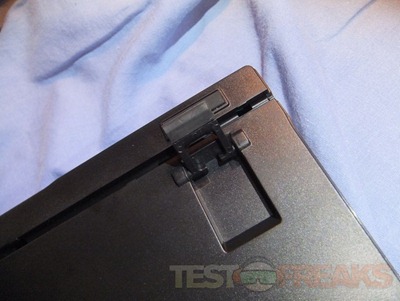 The USB cable plugs into the mini USB port that's tucked up under the bottom of the keyboard.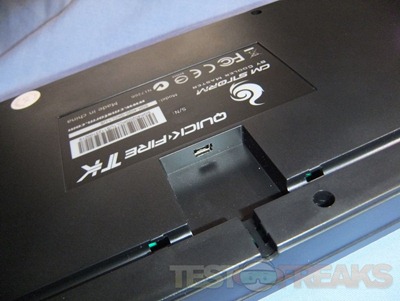 If you need to remove or replace any keys, that's easy with the included key puller. You just push down on the key puller and it will lock into place, then pull up to remove the keys.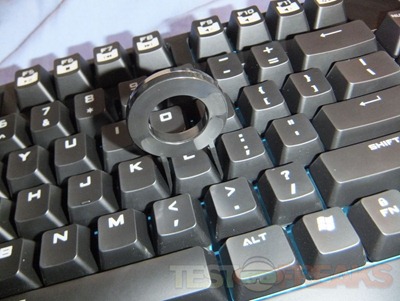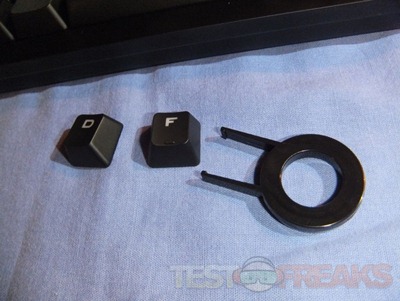 Once the keys are removed you can see the Cherry Blue MX mechanisms underneath along with the LEDs that are used for backlighting. You'll also notice the bottom, beneath the keys, is blue as well.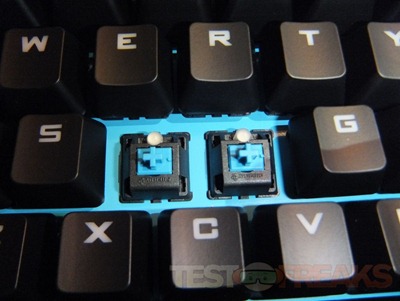 Specifications:
Model: SGK-4020
Choose between 3 different Cherry MX switches. Each keycap is UV coated to make it durable. There's full LED backlighting with 3 modes and 5 brightness levels. NKRO over USB means every single keystroke will be registered. An embedded steel plate give you maximum stability and durability. 7 easy-access multimedia shortcut keys save time. A complete numpad lets you get work done while not gaming. The slim and lightweight size gives you plenty of room for your mouse. Great for LAN parties.
N-Key Rollover over USB
N-Key Roll Over in USB mode means even the wildest key combos are registered perfectly.
Easy Cable Management
Detachable braided USB cable and cable routing groves at the underside of the keyboard. Easy cable management and better flexibility.
Full LED Backlight, 3 Modes and 5 Brightness Levels
Stylish and provides optimum visibility even in dark rooms. Different backlight modes highlight different key groups.
Compact Layout with Integrated Numpad Block
The QuickFire TK's unique NumPad block design merges both navigation and command keys. You get a compact gaming keyboard with a NumPad block.
Specs:
Model: SGK-4020-GKCL1 (Blue switch)
Key Switch: Cherry MX Blue/ Brown/ Red
Keycaps: ABS, grip coated, removable
Keycap Puller: Yes, ring-puller
Backlighting: All keys, 5 Levels, 3 Modes
Key Rollover: NKRO (windows only)
Polling Rate: 1000 Hz /1 ms
Interface:    USB 2.0 full speed
USB Cable: 1.8m, braided, gold plated, removable
Dimension: 377.5(L)*138(W)*33(H)mm / 14.9(L)*5.4(W)*1.3(H)inch
Weight: 544 g/1.2 lbs
Warranty: 2 years
UPC Code: 884102017940 (SGK-4020-GKCL1 Blue switch)
Price: $99.99 (from Amazon at time of review)
So I've got a few pictures for you of the keyboard all lit up, the QuickFire TK I got for review is Cherry Blue MX keys so the backlighting is blue to match.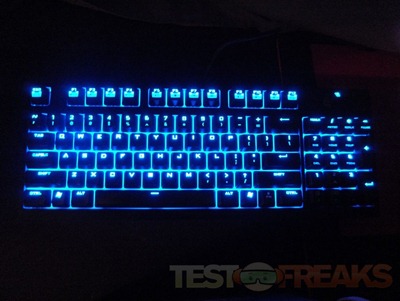 it's kind of hard to show you but thee are five levels of brightness that go from very dim to very bright.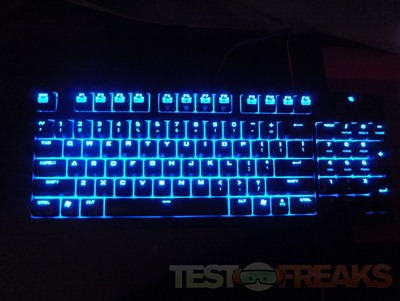 Keyboard reviews are kind of hard because it's a subjective thing where I may like one thing about them and you may not and vice versa. It all depends on your uses for the keyboard itself and I use mine for both gaming and work as I don't want to have to switch between keyboards, I want one that does it all. I very much like mechanical keyboards as I think most people who appreciate a good keyboard do.
I had a choice when it came to which keyboard to get for this review and I choose the Cherry MX Blue because I like the clicky and tactile feel of them. As mentioned before you can also pick from Red or Brown for the QuickFire TK, but I have the blue so that's what I'm basing this review on.
The keys are springy and you pretty much have to press them all of the way down to activate them, you'll hear the click. You can't really touch type on this keyboard, you have to depress the keys about 90% of the way before they register. That's just the nature of the Cherry MX Blues, some people like it and some don't and they do take a bit to get accustomed to if you've never used a mechanical keyboard. The keys do feel slightly farther apart than other keyboards I've used. I made a lot of mistakes when I first got the QuickFire TK, but after a while I was typing along just fine making fewer and fewer mistakes but I noticed my typing speed did drop a bit overall.
As far as gaming it works fine, the layout just right the keys are not too close and not too far apart. I played many games over the Thanksgiving holiday as my three kids were home so I really couldn't concentrate to get any real work done so the QuickFire TK got a good workout anyway.
You may have noticed the layout of the keyboard is bit odd, or not normal from others. The keypad is the big difference here, it does double duty as a numpad and your other keys like cursors, Delete, Home etc. The thing here is that you can't use both at once you have to choose which you need the most really. Press the num lock key to activate it and you can use the numbers, press it again to deactivate it and you can use the other keys. I have to admit that I never really realized how much I used the cursor keys until I got this keyboard for review, I really miss them. I use the numpad and the cursor keys often so having this configuration on the QuickFire TK doesn't quite work for me.
In the dark you can really see the difference between numlock off and on, in the light you can though still.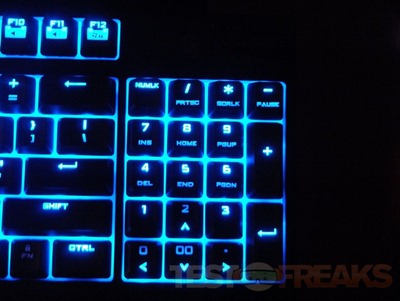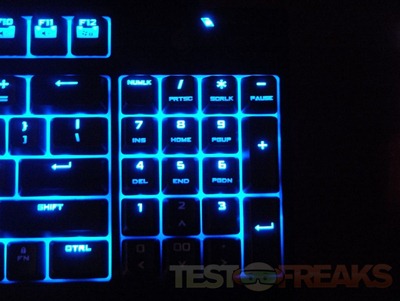 You can also just turn all of them off except for the gaming keys which kind of looks dark. The special function key is still lit though.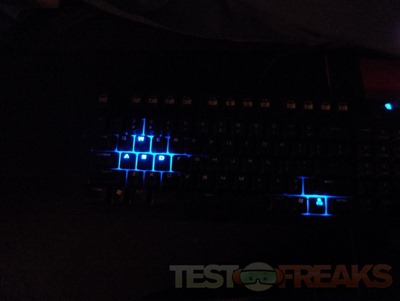 A quick comparison for you, in 2007 I got the Raptor-Gaming K1, which is a mechanical keyboard as well with Cherry keys and it's served me well, after all these years it still works perfectly in fact. It's really not much larger than the QuickFire TK but all the keys are included. It looks a bit larger, but the QuickFire TK has a more compact layout to it. The actual key section is very close to the same size but yet they fit all of the keys in. The QuickFire TK uses the function button to lock the Windows key only. The Raptor-Gaming K1 comes with a key puller and locks that you slip under the keys you don't want to use, like for example I have the Caps Lock and the Windows keys locked from use.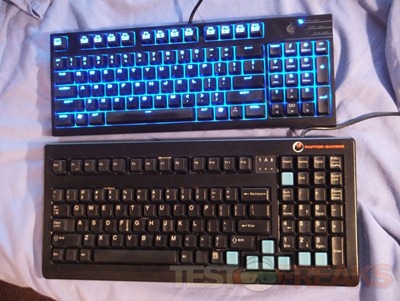 The keys are removable and replaceable yes but, unless I missed it, I don't see where you can buy replacements on the Cooler Master site. Sure removing them makes it easier to clean should you need to, but again where would you get replacements at?
There is one thing I don't really care for about this keyboard and that is the USB cable. The cable itself is nice, it's braided and thick but it's not permanently attached to the keyboard. The cable attaches via a mini USB connection to the bottom and it gets sort of locked into place in one of the channels there. I was doing some cleaning and pulled the keyboard to move it and it just popped right out. It does make moving the keyboard easier yes as you don't have to reach behind your computer to unplug it, but I just don't like the fact that it can just pop out when moving it. So it can be a good thing and it can be a bad thing, depends on your perspective I guess.
Conclusion:
Overall the CM Storm QuickFire TK is an excellent gaming keyboard, I especially like the backlighting for gaming at night. The keyboard itself is very well made, it seems sturdy and should last for a long time. The keyboard is small so you can easily slip it into a bag and take it with you if need be and the build quality should prevent it form getting damaged in your travels with it.
The choice of Cherry keys is one that I think everyone should appreciate, no matter which style of mechanical keys you prefer, you'll be abler to find the one you want in the QuickFire TK.
The Cherry MX Blue keys are very clicky and offer a lot of tactile feedback, but you will need to depress them most of the way down for the key press to register. It's just how they're made but it's something to keep in mind.
The ability to lock the Windows key on the QuickFire TK is great, but it would be nice if you could lock other keys, like the Caps Lock which I hit more often than the Windows keys.
The addition of basic multimedia functions is very welcome as well.
The layout of the QuickFire TK is great for gaming, and it's small and portable but it's just not too good for everyday use or doing work, at least for me and my uses anyway. I found that I use the cursor keys a lot more than I realized I do and having to hit the numlock every time I want to use them can be annoying especially when I use the cursor keys in conjunction with the number keys. I have to use the cursor keys and then use the numbers keys across the top of the keyboard which slows down productivity a bit.
Whether you'll like the CM Storm QuickFire TK is a matter of your personal preferences and exactly how you'll be using it. I could switch between keyboards for everyday use and for gaming, but I really don't want to do that, I much prefer a good keyboard that I can use for all things.
The USB cable can be both a pro and con I think, as I'm still not sure if I like not having it permanently attached or not. It can be useful at times to be able to remove the cable but I 'd hate to lose the cable somewhere since it isn't attached.
Bottom line is that if you need a pure gaming and multimedia keyboard then yes I can recommend the QuickFire TK.
Pros:
+Very well made
+Different levels and configurations of backlighting
+Choice of Cherry switches to fit your preferences
+Small and portable
+Includes basic multimedia keys
+Great for gaming
Cons:
-Not the best keyboard for work uses
-USB cable can pop out from back
| | |
| --- | --- |
| Grades: | |
| Overall | |
| Design | |
| Performance | |
To learn more about our review policy please visit this page HERE.