Consumers nationwide continue to snap up Nintendo products for the holidays, and Nintendo is poised to carry that momentum into 2010. Dozens of games for the Wii™, Nintendo DS™ and Nintendo DSi™ systems are on the way in a wide range of categories from both Nintendo and its third-party partners.
To bring a little color to the winter months, Nintendo will release two new colors for its Wii Remote™ controller. Starting Feb. 14, the controller will come in Pink or Blue and will be bundled with a Wii MotionPlus™ accessory. Along with the current White and Black versions of the controller, now every player in four-player matches can have his or her own color.
"During the holidays, tens of millions of Americans are going to spend enjoyable hours with both Wii and Nintendo DS," said Cammie Dunaway, Nintendo of America's executive vice president of Sales & Marketing. "And the enjoyment will only grow in the early weeks of 2010, whether your taste in gaming comes from exploring ocean depths, catching, training and battling Pokémon or even designing your own micro-games."
On the Wii console,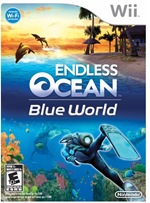 On the portable side, Nintendo's hand-held systems will see the arrival of a number of diverse games, including the eagerly awaited Pokémon™ HeartGold Version and Pokémon™ SoulSilver Version on March 14. Pokémon HeartGold Version and Pokémon SoulSilver Version allow fans to return to the scenic Johto region first introduced in the beloved Pokémon Gold and Pokémon Silver games. The games have been fully enhanced with rich graphics, updated sound, new touch-screen controls and much more.
On March 28, WarioWare D.I.Y.™ lets users design their own micro-games from scratch and share them with other WarioWare D.I.Y. owners via a broadband Internet connection and Nintendo® Wi-Fi Connection. Every element, such as the characters, the environment, the actions and even the purpose of the micro-game itself, can be created entirely by the player. Also on March 28, hungry gamers can dig into America's Test Kitchen: Let's Get Cooking, which gives family members the chance to prepare 300 different dishes together. All of the recipes and the how-to videos in the game were created by the popular public television show America's Test Kitchen.
Remember that Wii and Nintendo DSi feature parental controls that let adults manage the content their children can access. For more information about Nintendo, visit www.nintendo.com.
About Nintendo: The worldwide pioneer in the creation of interactive entertainment, Nintendo Co., Ltd., of Kyoto, Japan, manufactures and markets hardware and software for its Wii™, Nintendo DS™ and Nintendo DSi™ systems. Since 1983, when it launched the Nintendo Entertainment System™, Nintendo has sold more than 3.2 billion video games and more than 535 million hardware units globally, including the current-generation Wii, Nintendo DS and Nintendo DSi, as well as the Game Boy™, Game Boy Advance, Super NES™, Nintendo 64™ and Nintendo GameCube™ systems. It has also created industry icons that have become well-known, household names such as Mario™, Donkey Kong™, Metroid™, Zelda™ and Pokémon™. A wholly owned subsidiary, Nintendo of America Inc., based in Redmond, Wash., serves as headquarters for Nintendo's operations in the Western Hemisphere. For more information about Nintendo, visit the company's Web site at www.nintendo.com.