Today, Callpod, Inc. launches its newest version of Keeper for the iPad, the top downloaded app which allows you to quickly and easily access, organize and back up your secret and confidential information.
To celebrate the new app, Keeper Backup is being offered at a special price of 50% off through iTunes for all devices. For only $14.99 a year (yes, that's only 4 cents per day to protect the information on your device against loss, theft or hackers). Keeper Backup allows you to save your information to Keeper's Cloud Security Vault. Also, you can synchronize your iPad's Keeper data between other mobile devices with ease.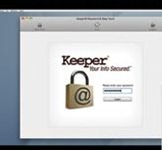 Everyday hackers either break into people's devices or people lose their devices in cabs, coffee shops and airports. More often than not, the information on an iPad is unsecure and subject to identify theft because these devices lack adequate security protection. The best method for preventing intrusions is to have different passwords on each computer or website and to change them frequently. Keeper allows you to do this with ease since everything is stored in one place for easy and quick access. For your protection and ease of mind, your data is encrypted.
The new app for the iPad lets anyone easily store and access their valuable and secret information. This includes email accounts, bank accounts, user names, passwords, website information, private phone numbers and information people use everyday. Keeper protects your data with 128-bit AES security. It is approved by the U.S. Government and supports the protection of top secret information.
Keeper's CTO Craig Lurey states, "We are excited about our new iPad app for the rapidly emerging tablet market. Keeper for iPad is a beautiful, benefit-rich software aimed at protecting our customers while giving them the convenience to access their personal information anywhere."
Keeper Free and Keeper Backup are also available for Android, Blackberry, Windows Mobile/Phone 7, Windows Vista/7, Mac OS X and Linux.
Keeper keeps your most important information totally secure and easy to access. Anywhere. Anytime.
Find out more at: http://callpod.com/keeper