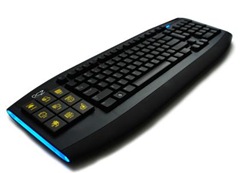 Now this looks sweet…. gotta get me one of these!
San Jose, Calif.—June 22, 2009—OCZ Technology Group, Inc., a worldwide leader in innovative, ultra-high performance and high reliability memory and components, today announced the highly-anticipated Sabre OLED multimedia keyboard for advanced gaming and customization complete with intelligent management software. The Sabre's unique combination of user-friendly functions, durability, and personalization features is the answer for serious gamers and professionals seeking improved productivity and competitiveness.
"The OCZ Sabre Keyboard offers the best of both worlds when it comes to OLED technology and a truly functional yet affordable gaming keyboard," commented Eugene Chang, VP of Product Management at the OCZ Technology Group. "With nine dedicated OLED keys, the Sabre is able to leverage both the infinite customization benefits of the technology with the reliability and feel of a high-quality gaming keyboard, making for the ultimate all-in-one solution."
The sophisticated Sabre is OCZ's first foray into premium-level peripherals and features ultimately limitless options for customization. The nine dynamic OLED (Organic Light Emitting Diode) user-programmable hotkeys help manage time and efficiency while surfing the web, gaming, emailing, and CAD applications or any avenue the user sees fit. The unique OLED keys can convert any digital image or text into distinctive icons, reminding the user of the personalized shortcut. Additionally, the remaining keys are backlit with glowing amber LEDs and blue side lighting, perfect for users that prefer darkened rooms or gamers frequenting LAN parties.
The Sabre's proprietary software turns conventional computing or gaming into an engaging, state-of-the-art experience. The software allows the user to map sets of simple or complex command tiers to each OLED and holds the power to store limitless layers of shortcuts and macros. Driven by this intelligent software, the nine OLED display keys change their icons and command tiers as the user jumps from one application to the next. Loading a First Person Shooter or application triggers a programmed sub-grid of weapons and tool commands to instantly appear.
Furthermore, each "home" command of the key can then activate a sub-grid of your favorite alt/ctrl and menu shortcuts individual to each program or application. Add additional tiers of commands and macros to each sub-layer creating infinite possibilities and increasing speed and productivity at work or during game play.
Designed for ultra-competitive gamers, CAD professionals, and enthusiasts, the OCZ Sabre keyboard embodies a collection of their high-end needs by uniting style and comfort with the features and personalization demanded from a high-end peripheral. The Sabre features an ergonomic and high-quality design and construction with keys lasting over 5 million cycles and will remain comfortable even through prolonged usage with its clean layout, tilted design, and superior tactile feedback. The Sabre is "Plug and Play" using a USB 2.0 interface accompanied by additional software to program the keyboard and is compatible with Windows® XP (SP2 or later) and Windows® Vista™. Backed by OCZ's industry-leading support and service, you can rest assured your high-powered peripherals will serve you for years to come.