So, yesterday we reported here that Seagate just introduced new additions to their BlackArmor family of external storage solutions for small businesses, today they arrived on my doorstep courtesy of UPS. So I figured why not give you guys a quick look at a the two they sent me over for review. The WS 110 which is a 1TB 3.5″ drive and the PS 110 which is a 500GB 2.5″ storage solution.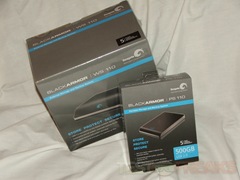 First up here's some pictures of the PS 110 500GB 2.5″ drive, it only has a USB connector on it, but that's all that's really needed as it's meant to be portable. It's a plastic housing as expected and inside you'll find a 5400RPM 500GB hard drive. It looks very nice though, in fact both of them do..
Here's the WS 110, which is the 3.5″ 1TB storage solution, it's thin and wedge shaped, it comes with a power supply, USB cable and a stand, but it can also utilize an eSATA connection as well. It's quite a bit large than a 3.5″ hard drive, but I'm sure that's to help dissipate heat as it runs a 7200RPM drive. The WS110 can be mounted horizontal or vertical, to save space, with the included stand.
Both drives come with business grade software pre-loaded on them. They can do incremental and full-system automatic backups on the PC. They also include Safety Drill+ recovery software or Bare metal Restore.
The one difference I can see between them besides the size, is that the WS110 includes encryption for your file backups.
Both drives have a feature called Try and Decide that allows you to create a secure, controlled temporary workspace on your computer. This lets you try out new programs or change settings without worrying about losing data or damaging the system. When you're done 'playing' you can then decide to keep the changes or disregard them as if you never did it.
So, give me some times with these, and I'll have a complete review for you soon…