Rochard is here for PSN, and the voice acting for the main character is done by Jon St. John, the same game who voices Duke Nukem. Seeing the last Duke game though, is that a good thing or bad thing? Seriously though John Rochard is the main character and he must protect humanity by manipulating gravity and solving puzzles to save the day.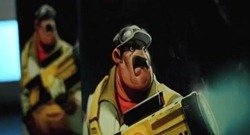 Developed by Recoil Games, Rochard is an original space adventure game that challenges players to use coordination and logic to manipulate gravity on the fly and overcome dangerous obstacles and deadly foes to advance. By using the upgradable G-Lifter, the main tool of the game, players lift and maneuver heavy objects around the environment, and jump and propel themselves across huge chasms and onto towering elevations throughout each level. The hybrid puzzle-platform gameplay is buoyed by humor, slick visuals and clever audio touches. The game's challenges require more than just a quick trigger finger; players have room to improvise their way through both combat and puzzles using increasingly powerful tools at their disposal.

"We are incredibly proud of Rochard and the praise we have received for the game from across the globe, including two 'Best of' awards from press at this year's Gamescom 2011," said Samuli Syvahuoko, CEO of Recoil Games Ltd. "The time has finally come to put our clever and distinctive action adventure in the hands of gamers— and we couldn't be more excited. When floating through low gravity, solving puzzles and tossing boxes at space pirates, we are confident players will find Rochard to be a fun game to sink their teeth into this fall."

Rochard is now available in North America on the PlayStation®Network for $9.99 USD. The game is rated T for Teen by the ESRB for fantasy violence, suggestive themes and mild language. For more information, please visit www.rochardthegame.com.