Rockstar Games are proud to announce that L.A. Noire is expected to launch on both the Xbox 360 video game and entertainment system from Microsoft and the PlayStation3 computer entertainment system on May 17, 2011 in North America and May 20, 2011 in Europe.
"L.A. Noire breaks new ground for us," said Sam Houser, founder of Rockstar Games. "Its intense blend of action and real detective work defies genre conventions to create a unique and captivating thriller."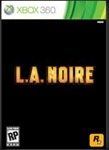 Set amid the violence and corruption of post-World War II Los Angeles, L.A. Noire is a crime thriller that seamlessly blends crime-solving, clue-finding, car chases and shoot-outs with revolutionary new interrogation-based gameplay that will allow players to read characters' emotions in order to reveal the truth. Players will take on the role of Cole Phelps, a decorated war veteran, who rises through the ranks of the LAPD by solving a series of gruesome murders and other crimes that bring him face-to-face with the dark heart of Los Angeles during Hollywood's Golden Age.
Developed in a special partnership with Rockstar Games and Team Bondi, L.A. Noire employs ground-breaking new MotionScan performance-scanning technology. MotionScan utilizes 32 high-definition cameras to capture actors' faces in 3D, transferring every aspect of their performance into the game, enabling players for the first time to lip-read in-game characters and to read every facial expression down to the finest detail.
For more information, log onto www.rockstargames.com/lanoire.