The new Samsung Galaxy Prevail will be available in late April for $179.99. The Prevail is a Android phone running 2.2 with a 3.2" screen and a 2mp camera along with the other stuff you've come to expect from Android phones.
The Galaxy Prevail will be available on Boost Mobile's $50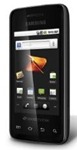 Galaxy Prevail features include:
Android 2.2 with Access to Android Market™
3.2-inch touchscreen
2MP camera with video
GPS enabled
Bluetooth® capable
Easy access to Gmail™ and Google Talk™
Wireless Web enabled
Switch between portrait and landscape
Speakerphone with voice-activated dialing
Telenav navigation, free and unlimited
Supports microSD™ cards up to 32GB (2GB card included)
Voice mail, caller ID, call waiting and three-way calling
With Android, consumers can create their own arsenal of fun and productivity by selecting from more than 100,000 applications. In addition to the features listed above, the Galaxy Prevail's preloaded applications include SCVNGR™, Poynt™, Twidroyd™, Facebook©, Hookt™, ThinkFree Office© and YouTube©.
Customers can also protect their Samsung Galaxy Prevail with Phone Insurance that is now available for Boost Monthly Unlimited customers. For $5 per month customers are covered if their device breaks, is lost, stolen or damaged – even by liquid. Go to www.boostmobile.com for more information.