I think I like rechargeable batteries, I'm not sure yet. I've had a lot of experience with them but most of it was bad. I like the idea behind them yes, but every set I've ever owned seemed to die too quickly in terms of both how long they last in a device and how long they hold a charge and the amount of time they can be recharged. These new eneloop batteries come pre-charged and are supposed to hold 75% of their charge up to three years.
SANYO North America Corporation (SANYO) proudly announces the release of new AA- and AAA-size "eneloop" rechargeable batteries with approximately 500 more charges than previous eneloop batteries. The batteries are charged and ready to use and will maintain approximately 75% of their charge up to three years, a first in the industry. The new eneloop 1500-cycle batteries are available immediately at Costco Stores nationwide. The combo-pack containing the 4-position charger, eight (8) AA batteries and four (4) AAA batteries sells for $25.99 at Costco.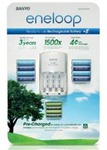 The eneloop batteries in the Costco combo-pack come in two shades of blue and two shades of green. The colors provide added convenience making it easy for consumers to "pair" the batteries in devices and in the charger.
"The Holidays are right around the corner and this is a great addition to power any gift that requires AA or AAA batteries," said Tom Van Voy, VP and General Manager of SANYO Digital Solutions Division. "eneloop batteries are pre-charged which means they can be used right out of the package with new toys, gadgets, and other devices. The new eneloop batteries last even longer than before and can be recharged up to 1500 times which can save consumers hundreds of dollars on batteries over their lifetime."
eneloop batteries were first announced about five years ago. During that time eneloop has become well known around the world, for its eco-friendly and economical properties. These batteries are pre-charged at the factory using solar energy, which begins the energy "looping" (eneloop) process.
Main Features
Industry No. 1*(1) Rechargeable battery, rechargeable approximately 1,500 Times*(2),  realized by upgrades of material, manufacturing method, and structure
Charged eneloop will still be ready to use even after 3 years*(4), thanks to SANYO's industry-leading self-discharge control technology
Solar energy used for factory pre-charging*(3), Realizing a Clean Energy Loop
Stable discharge voltage ensures longer lasting power than a dry cell battery even in low temperatures or when using it with a device that requires a large amount of electricity, such as a digital camera.
Can be recharged without worrying about memory effect.
For more information about eneloop batteries please visit http://us.sanyo.com:80/eneloop.