Buffalo has just announced two new products for the consumer, the MiniStation Stealth and the DriveStation Axis LED. They'll be available in different capacities for different prices of course. The Stealth should be out any day now while the Axis will be released in January.
The MiniStation Stealth is a compact portable hard drive that is USB powered so there are no additional cables to manage and no need for a separate power source. Simply plug the MiniStation Stealth into any available USB port on your PC or Mac® computer and instantly add capacity or store files to take on the road.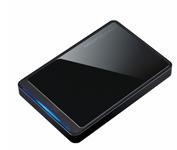 The DriveStation Axis LED is an easy to use external hard drive for the instant addition of external storage to any device using a USB port. Featuring an easy-to-read integrated capacity meter and a unique chassis, the sleek, attractive DriveStation Axis LED can be positioned vertically or horizontally, adapting to the location it is used in for efficient use of space and providing immediate feedback regarding storage capacity.
Included with both the MiniStation Stealth and the DriveStation Axis LED is Buffalo's multi-purpose Buffalo Tools utility suite designed to enhance Windows® PC performance and user experience. It features TurboPC, a utility designed to enhance PC performance for up to 2X faster file transfers. Also included, Buffalo's Backup Utility protects your important files and documents by backing up your PCs to your Buffalo external hard drive and it provides an easy-to-use data restore function. Store, back up and transport your content instantly with plug and play connectivity. The MiniStation Stealth and the DriveStation Axis LED are the perfect solutions for expanding storage or backing up your computer.
Pricing and Availability
The Buffalo MiniStation and DriveStation storage solutions are backed by a limited one-year warranty that includes toll-free 24/7 technical support.
The MiniStation Stealth will be available November in the US market at estimated street prices of $74.99 for the 320 GB (HD-PCT320U2/B), $89.99 for the 500 GB (HD-PCT500U2/B) and $104.99 for the 640 GB (HD-PCT640US/B).
The DriveStation Axis LED will be available in January 2011 at estimated street prices of $99.99 for the 1 TB (HD-LEM1.0TU2) and $159.99 for the 2 TB (HD-LEM2.0TU2)
Buffalo products can be purchased through distribution, online resellers and Buffalo's ecommerce website.  For more information about Buffalo Technology and its products, please visit the company's web site at www.buffalotech.com.