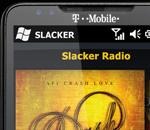 …and it's about time too! Us Windows Mobile folks have been feeling left out! Seriously though, if you're into the whole internet radio thing and you've got a WinMo phone then you'll want to check out this app. Personally I'm not into it all that much, I had a stand alone Slacker Radio unit at one time, but I gave it away to a friend as I really didn't use it as much as I thought I would.. It's a great idea yes, and Slacker is very popular as I'm sure most of you know. The new Slacker WinMo app even come pre-installed on the new HTC HD2 phones and is compatible with WinMo 6.54 devices, and the best part is that it's free!
  Slacker Radio for Windows Mobile:
  --  Music library featuring millions of songs
  --  High-quality stereo playback from any available wireless connection
  --  Create custom artist stations based on artists or songs
  --  Over 120 professionally programmed and customizable genre stations
  --  View artist biographies and photos
  --  View album art and read reviews
  --  Rate songs as favorites
  --  Ban songs and artists from stations


  Pricing and Availability
The free Slacker Radio application is now available on HTC HD2 from T-Mobile USA or any Windows Mobile 6.5 smartphone with a screen resolution of 480 x 800 by visiting www.slacker.com from the smartphone browser.
Web Site: http://www.slacker.com/
For more information visit http://www.slacker.com/everywhere.