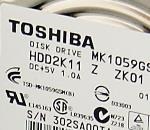 It's nice to see 2.5" drives getting up there in size, I can remember a time, not that long ago actually, that 2.5' drive capacity was very far behind that of their 3.5" cousins. Now though we can get massive storage for our laptops just like we can for our desktops.
Toshiba today announced two additions to its 5,400 RPM line of 2.5-inch HDDs featuring industry-leading storage capacities. In the standard 9.5 millimeter-high, two-platter design, the MK7559GSXP HDD incorporates both the industry's highest areal density and capacity at 750GB.
Toshiba also introduced a new three-platter 12.5-millimeter-high platform with the MKxx59GSM series, which offers 750GB and 1TB of storage. These capacity points were predominantly supported by larger form factor 3.5-inch HDDs until the introduction of high-end 2.5-inch solutions, providing low-power, space-saving opportunities to system manufacturers looking to differentiate or update their products.
These two new product offerings expand Toshiba's mobile HDD product line into the highest-capacity segment of the 2.5-inch HDD market and represent the company's first mobile HDD platforms developed with the combined engineering resources from the integration of Fujitsu's HDD business, which Toshiba acquired last fall.