I don't know about you but I hate track pads on laptops and netbooks, after using a mouse for so many years it's just hard to get accustomed to it really. I have a small wireless mouse that I use but this new one from Smartfish is one that I'm certainly interested in. It's unique in that it pivots while you're moving it.
SmartFish Technologies is proud to announce the launch of the Whirl™ Mini Notebook Laser Mouse, the gravity-defying travel mouse that adapts to the natural motion of your hand.  The Whirl™ Mini  builds off of the simple, strikingly unique design of the original Smartfish Mouse which was awarded the CES Innovations award for 2010.  It employs the same patented technology in a smaller form factor so that business professionals, travelers, commuters, and other laptop users can take advantage of the ultra-comfortable computing experience Smartfish provides.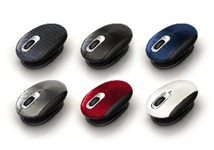 "Conventional notebook mice lack comfort not only because of their smaller size but also due to the fixed, rigid position your hand is forced into for hours on end." said Dr. Jack Atzmon, President and CEO of Smartfish Technologies.  "This leads to fatigue, discomfort, and ultimately, repetitive stress injury.  Whirl's comfort pivot system provides the natural fluid movement your body needs.  The mouse becomes a natural extension of your hand as if it's floating on air.  It's the most luxurious comfort attainable for on-the-go computing."
The Whirl ™ Mini Notebook Mouse was developed in collaboration with the country's leading Orthopedic Hospital, The Hospital for Special Surgery in New York City, whose mission statement is to "improve mobility and the quality of life for all." This is the Hospital's first collaboration on a consumer product in their 160-year history.  A portion of our proceeds is donated to the Hospital for Special Surgery Rehabilitation Education Fund to help further research of technologies. (www.hss.edu)
The Whirl™ Mini Notebook Laser mouse is plug and play compatible with MACs and PCs, features an ambidextrous design, 1600-dpi hi-def laser sensitivity, 2.4MHz wireless connectivity and extra long battery life.  It comes in an array of colors including Carbon Fiber, Black, Blue, Silver, Red, and White and is available for pre-order from www.getsmartfish.com for $49.95 shipping in early December.