Source R&D, a premier technology provider, announced today the availability of the Warpia Wireless USB Audio/Video (A/V) Display Adapter based on Wireless USB technology from Wisair, a leading provider of single-chip based Wireless USB solutions. The A/V set enables users to enjoy any PC and Internet content wirelessly on a Flat Screen TV, projector or monitor, including HD movies and streaming Internet video.
The A/V Set incorporates a PC Adapter connected to a USB 2.0 port, available in any notebook or PC. The Display Adapter, which connects to the TV, projector, or monitor, features both VGA and HDMI connectivity, the most common interfaces in the market today. Audio is supported through the HDMI port or via a 3.5mm stereo jack, offering complete flexibility. The Set provides a wireless range of up to 30 feet (in the same room) and is expected to be available soon in retail stores and online retail channels in at an MSRP of $179.99 USD.
"Following the success of the Wireless USB Display Adapter Set that launched a few months ago for video only, we are excited to launch our newest product which now includes audio. The A/V Set provides easy to use, plug and play wireless PC to TV connectivity. Users can now watch and share their personal photos, camcorder clips, downloaded movies and any other content stored on their notebook PC on an HDTV that serves as their large screen", said Mike Walsh, Source R&D principal and president. "Together with their wireless home or office network, this product enables a complete wireless Internet TV experience, allowing users to watch online movies and any web site on their HTDV with access to the entire Internet without limitation. Furthermore, users can do so from the comfort of their couch via their notebook PC and regular Internet browser. We are very pleased to enhance our collaboration with Wisair by offering this product, which is based on Wisair's proven Wireless USB technology".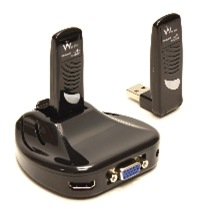 "We are very excited with the launch of the Warpia A/V Display Adapter", noted David Yaish, Wisair president and CEO. "We plan to maintain our leadership by offering additional Wireless USB solutions to enable more cool applications and low-cost, high-performance products".
About Source R&D:
Source R&D, Inc. is one of the world's premier technology providers and a leading technology sales, marketing and logistics company. Specializing in emerging technologies and innovations, Source R&D serves as a vital link in the technology value chain. Source R&D, Inc. creates sales and profitability opportunities for OEMS, ODMs, vendors and resellers through unique marketing programs, logistics services, backend support, financial services and product aggregation and distribution. For additional details, visit Source R&D web site at http://www.sourcerandd.com or the Warpia website at www.Warpia.com.
About Wisair:
Wisair is a fabless semiconductor company providing Ultra Wideband (UWB) and Certified Wireless USB solutions based on its CMOS single chip. Recognized for their superior coverage, and throughput, Wisair's solutions offer the best combination of performance, price, and power consumption for Wireless USB. For more information, visit www.wisair.com.