Universal is awesome I think, it's great to be able to buy just one case for all of your devices and not have to buy individual cases for each and every one of them. Pyle Audio have just introduced the SurfSound-PLAY which is a case that's waterproof and has a built-in speaker but of course the best part is that it's universal meaning it will work with most any MP3 player or phone on the market today. Price is $68.99 and you can get it in black, whit or blue colors.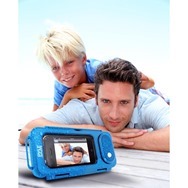 Pyle Audio, manufacturers of outdoor recreational sports gear and home, car and pro audio equipment, launches the SurfSound-PLAY waterproof speaker. The SurfSound-PLAY is a lightweight, user-friendly speaker case that delivers full functionality of connected devices. Transforming your iPod, MP3 Player, or smartphone into a portable waterproof audio device, the SurfSound-PLAY case allows users to play videos, music, and answer calls. Available for $68.99 at www.PyleAudio.com.

Engineered IPX-7 waterproof (up to 3.3ft) and dustproof exterior make Pyle's SurfSound-PLAY a perfect solution for all summer excursions. The innovative plug-and-play interface permits the user to simply plug in the 3.5mm jack connector and play music on land or in water. Additionally, the clear plastic screen protector boasts UV surface treatment and maintains touchscreen capabilities.

"We wanted to create a product that really said 'summer'," says Abe Brach, President of Pyle Audio. "This speaker serves to accommodate the active consumer attempting to stay connected in any location. Unlike other speaker cases, users will still have access to their device with full touchscreen function."

Pyle's Surf Sound Features Include:

-Features ultra-lightweight, waterproof, shock-absorbent protective case with built-in speaker

-Engineered clear plastic is responsive and allows touchscreen ability

-3.5mm jack connector compatible with smartphones, MP3 Players, and iPods

-Dimensions: 3.85" W x 7.95" H x 1.37" D

-Fits devices up to 2.77" W x 5.37" H x 0.46" D

The SurfSound-PLAY universal speaker case is available  in white, black and blue for $68.99 at www.PyleAudio.com.