It's that time of the year, back to school, and this week I've got several reviews for you of products for that purpose of making life easier for going back to school. You could be going to college or high school, I've got something coming up that will fit your needs surely.
Today for review I've got a backpack, the traditional back to school accessory for sure, a must have for any student no matter what grade level. The backpack is from Targus and it's called the CityGear and it's got a plethora of pockets big and small for everything you need for class and life. I've got a few backpacks for review and I've noticed a trend with all of them, they now have a dedicated tablet pocket, which makes sense as that's the big thing now is for schools to be utilizing them and even giving them to students as part of the tuition package. The CityGear pack is also made for laptops and it does feature a nice large well padded section that will fit notebooks up to 15.6" in size and keep them protected while you're going to and from classes and really just going anywhere. So read on to learn more about this bag from Targus…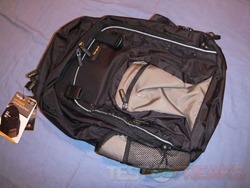 Specifications and Features
Targus CityGear 15.6″ Laptop Backpack
Keeps your laptop secure whilst you travel
This high quality rucksack for any 15 – 15.6″ laptop or MacBook Pro is ideal for securing and protecting your device whilst you travel. Featuring a specifically designed pocket for your device, it will be kept completely out of the way of all of the other items in your bag.
Has a wide range of storage pockets for all of your everyday necessities
Allowing you to carry all of your everyday essentials, as well as your laptop accessories, with you on a daily basis, this is ideal for the busy commuter or those taking their laptop over longer journeys.
Dedicated tablet pocket
This Targus CityGear laptop backpack allows you to store a tablet inside safely thanks to its dedicated tablet pocket which features a soft interior lining.
Comfortable shoulder straps and an optional grab handle
Making it comfortable to wear and hold at all times, the bag is finished with padded shoulder straps and has a finger-groove grab handle for when you need to pick up your bag in a rush.
Price: £54.95 / $86.00
Manufacturer product page: http://www.targus.com/us/productdetail.aspx?sku=TCG650
The Targus CityGear backpack was provided for review by GearZap where you can find many different styles of PC or MacBook bags and just a large assortment of bags for any need.