Thecus new naming scheme is certainly interesting.  I know a lot of people keep their 'stuff' on their NAS box, and now with a name like 'XXX' it's going to be kind of hard to hide what's on that NAS box anymore.?!
The new XXX line of Thecus NAS is leading the way in catering to your needs. With Xreme Power, Xtreme Function, and Xtreme Value, these Thecus NAS deliver. Whether it be a strong product for a budget price or a high-powered NAS for the tech-savvy, each model is extremely geared towards fitting you. From an extremely speedy 2-bay for your home office to an extremely powerful 8-bay rackmount for even the most demanding enterprise, Thecus XXX NAS are ready for you.
Remember those three letters, it's the new Thecus product line and they are going to make you reconsider the way you see the NAS world. We took our best products and pumped them up with all the latest components: Intel Atom processors, DDR3 memory, and many more. Designed to work seamlessly with our new firmware V5, the amount of software features of the XXX Series make every cent you put into your NAS worth the investment: New module design, Thecus's revolutionary Piczza!™ photo server, ThecusShare™, Web Disk, FTP server, Web server, Incremental backup, and iSCSI thin provisioning among many others.
By first putting the Intel Atom D525 processor in our 4-bay N4200PRO and N4200Eco NAS, Thecus got a first hand look at what this processor is capable of. To give SMB and home power users what they need to get through massive quantities of data and large file transfers, they knew the Atom D525 in a 2-bay NAS was the perfect solution. To complement the D525, the N2200XXX was beefed up with top-of-the-line DDR3 RAM for an extra boost in speed across the board. This combination made transfers over 100 MB/s possible in the N4200PRO, and the N2200XXX runs even faster! Another fantastic function on the N2200XXX is the added connectivity of SD, SDHC, and MMC cards. Storing music, photos, and videos has never been simpler and faster with the built-in card reader.
For more information on the N2200XXX, check out:
The 3-bay N3200XXX NAS is just the right size to store all your data: photos, music, and videos for example. Once safely stored, everything can be accessed not only from anywhere in the house, but anywhere in the world! From your NAS, you can play MP3's in your bedroom (or in your hotel room in Rome), show photos on your digital picture frame in your den (or in your friend's den in New York), or gather the family to watch HD movies on the TV in your living room (or on your laptop in the airport in Hong Kong). With the N3200XXX's high speed Intel Atom processor, all of these great features can be accessed simultaneously by multiple people in multiple places. Accessing your data has never been simpler, and sharing photos with your friends and family has just taken a leap into the future with the brand new Thecus photo server, Piczza. With all of these amazing features and rock solid data protection, your multimedia and data will be available, shareable, and safe for a long time to come!
For more information on the N3200XXX, check out: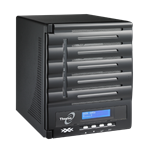 The N5200XXX is capable of storing up to 15TB of data, which gives you all the capacity you will need for many years to come. This NAS is perfect for small and medium businesses with increasing data storage needs, as well as private web experts running web services such as FTP sites, web sites, or sharing hubs. Libraries grow, files get larger, businesses develop; there are many reasons to allow yourself room to expand in the future. People from all walks of life are beginning to realize the value that NAS can give them and flexibility is extremely important. The N5200XXX is a great solution for anyone in search of a long-term solution with expanding data needs.
For more information on the N5200XXX, check out:
For more information on the 1U4200XXX, check out:
For more information on the N8200XXX, check out: http://www.thecus.com/product.php?PROD_ID=46
For more information on Thecus, go to: http://www.thecus.com