Today for review I've got another Android game called Turbo Grannies. Yes the name does sound a bit funny and it's a funny and fun game really. The premise behind it is that Grandma has escaped from the nursing home as she can't stand being there anymore. Granny hops on her scooter and away she goes. The game is fast paced, and a lot of fun and certainly worth the low price.
Specifications:
The nursing home is awfully boring!
Turbo Granny may be as old as the hills, but she can´t stand spending every day indoors at the slow nursing home. It´s deadening & Turbo Granny is bored to death! She misses all the action and excitement that she used to experience – a long long time ago… and that is why she one day has had it; Turbo Granny takes her permobile and gets the h*** out the nursing home!
Let´s free Turbo Granny! To make the most of this game you use your phones advanced features, such as touchscreen and gyroscope. To help Turbo Granny; lean back and forward on your cool permobile as you climb the hills and fly through the air using the accelerometer.
Little rusty there, Turbo Granny?
If so, she could take the easiest way, the Mountain track. At the Mountain track there will be some off-road driving with quite a few nasty jumps on the way. In order to complete the track she´d better have a rally vehicle…
Eager to go, Turbo Granny?
Then she should take the Suburbia track, it´s the best route for her to take – on her speedy vehicle…
Up for a challenge, Turbo Granny?
If it is a truly courageous Granny she should however opt for the Desert track. The Desert track is a really difficult cross track, in fact it is so difficult that if completed it is very doubtful that the nursing home staff will catch up with her – ever…
Price: $1.10

The games costs $1.10 on the Android Marketplace, after you download it and start it you'll be greeted with the title screen with options for Start Game, Score and About. There's also what looks to be Time Trials covered over with a red 'Coming Soon'.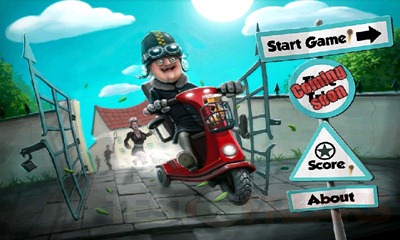 Score shows you a list of high scores, not sure why mine aren't there. I guess you actually have to complete an entire level. I've been playing all three levels basically and never finished one yet actually. The About page is just the credits.
When you click Start Game you'll have three choices for Mountains, Suburbia and Desert. It's basically levels for Easy, Medium and Hard with different scenery and obstacles.
Each level or area even offers a unique scooter which is shown in the top right of the opening map screen.
When you first start playing you'll get some instructions on-screen.  Press the right side of the screen to accelerate, press the left part to reverse or brake and you can tilt your phone to lean Granny forward or backward.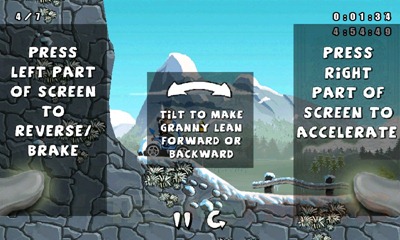 Here's a couple shots from the Mountain level, the graphics are fairly decent really and the game plays very smoothly on my Samsung Captivate.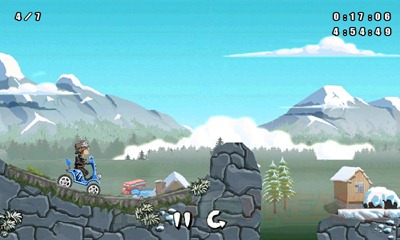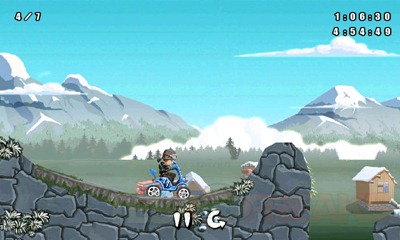 The next level is the Suburbia where Granny has a green scooter.
The game gets harder here with bigger jumps and parts where you must slow down to get through or speed up. There are signs to let you know what to do. This level also features loops that you have to get through.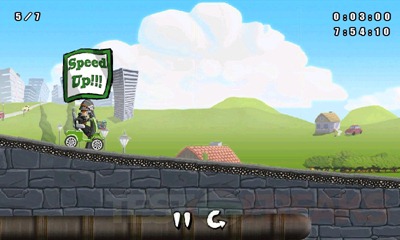 The last level is the Desert and it's the hardest by far. here you'll get a red scooter, it looks more like an off-road dirt bike.  Here you'll find many jumps and loops, but you'll also have to drive backwards in many spots and use your tilting skills to land correctly when you jump.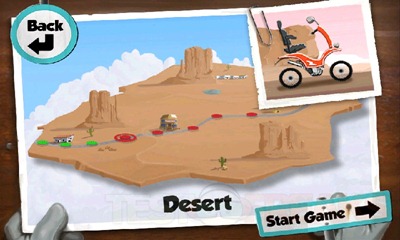 Here's a couple screen shots for you: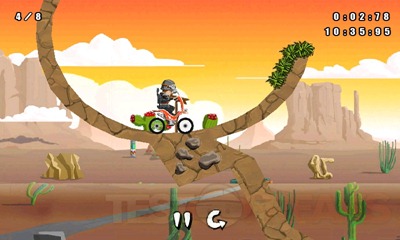 Anyway you press left and right to move forwards or backwards, and you tilt right or left to tilt Granny forward or back. The idea of tilting is to make sure you land correctly from a jump, on a nice high jump you can actually make Granny do a 360 and land on her wheels.
There are basic sound effects in the game, the motor running or Granny yelling when she makes a good jump or when she crashes. There's not much to the sound effects but it's enough for this type of game.
The graphics are decent and the background are nicely detailed. The game moves fast so you really can't pay much attention to the graphics or backgrounds, but you can see them if you take the time to look. It's nice to see a company put good detail into a game like this.
The game is simplistic yes, but I like it, it's actually a lot of fun.
I did run across a few bugs or glitches like Granny can get stuck when she crashes and not restart the level or from the checkpoint automatically as it's supposed to. I also ran into another one where Granny just dies at one point for no reason, she comes back on the screen and just dies. Just a few glitches here and there, it's a a new game and I'm sure it will be updated soon with a fix.
Conclusion:
Turbo Grannies is a fun, fast paced game that certainly puts a unique twist on the racing genre.
The game is only $1.10 and I think it's worth it, it's fun, it really is, I like it.
Pros:
+Actually a lot of fun
+Decent graphics
+Several levels in three different areas
+More coming soon?!
+Plays perfectly smooth on my phone
Cons:
-A few glitches and bugs to be found
| | |
| --- | --- |
| Grades: | |
| Overall | |
| Design | |
| Performance | |
To learn more about our review policy please visit this page HERE.