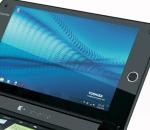 Goes without saying, but I'll say it anyway, I want one! This is sweet, it's a concept right now, but Toshiba says it will be making it in a limited run and hopefully I can get one of these limited units.. It's called the liberetto W100 and it's a dual touch screen laptop basically, there's no keyboard, in place of it is a touch screen. it's considered an ultra-mobile PC that will be running Windows 7 with an Intel Pentium CPU, 2 gigs of DDR and a 62bg SSD for storage…
With an ultra-portable weight of just 1.8 pounds, the libretto W100 is designed to deliver a rich Internet experience, multimedia playback and the freedom to multi-task – just like a standard laptop – but with the advantage of two seven-inch diagonal touch screens to work, watch and play on. The multi-touch touch screens can work independently or together, giving users the flexibility to decide how they want to use them. Surf the Web on one screen while checking e-mail on the other, view two documents simultaneously or view a webpage across both screens. A built-in 3D accelerometer allows the libretto W100 to rotate into portrait or landscape modes, making the device look and feel more like a book, newspaper or magazine.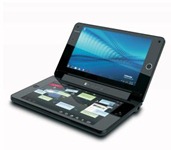 Features available on the Toshiba libretto W100 include:
Dual 7.0-inch diagonal multi-touch displays6 (1024 x 600)
6-mode virtual keyboard with haptic response
Windows® 7 Home Premium operating system
Intel® Pentium® U5400 processor1 (1.2GHz)
2GB DDR3 memory2
62GB Solid State Drive3
1.0 megapixel HD Webcam with Toshiba Face Recognition7
802.11 b/g/n wireless4
Bluetooth 2.1+EDR
MicroSD card slot
One USB 2.0 port
TOSHIBA Bulletin Board, ReelTime™ and PC Health Monitor software
8-cell battery
7.95" (W) x 4.84"(D) x 1.2"(H)
1.8 lbs.5
Availability
A limited number of the libretto W100 concept PC will be available for purchase later this summer from select retailers and direct from Toshiba at toshibadirect.com.