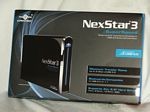 Portable hard drive are great, but did you ever notice it's cheaper to get the hard and buy the enclosure separately?  it seems there's a premium price when they put it together for you, then again a lo of companies do include so nice software with their drives so that could be part of it. If though you've got a few bard hard drives floating around you might want to grab an enclosure for them an maybe make use of them instead of having them collect dust. Enclosures ,for the most part, very similar, but Vantec is a brand stands out from the crowd in that their enclosures are attractive and very well made, they make some of the best out there truly.
Today for review I've got the new Vantec NexStar 3 2.5" SATA to USB 3.0 External Hard Drive Enclosure. The long product name there pretty much says it all, it's a USB 3.0 enclosure for 2.5" sized hard drives. The enclosure itself is very well made, it's metal  and aesthetically it looks good. Vantec even included a nice carrying case with it as well. So read on to learn more about it and see some testing results, I used a regular hard drive and an SSD for testing..

We'll start with a video unboxing:
The package is very attractive with lots of information on it:
Inside you'll find the enclosure itself, USB 3.0 cable, documentation, screws, and a nice nylon carrying case.
The enclosure itself is metal with plastic ends, it seems well made and durable. The finish is a high gloss one that instantly attracts dust and fingerprint though..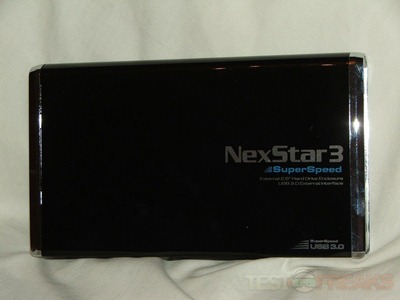 On the back end you'll find the UBS 3.0 connector along with an optional power connection.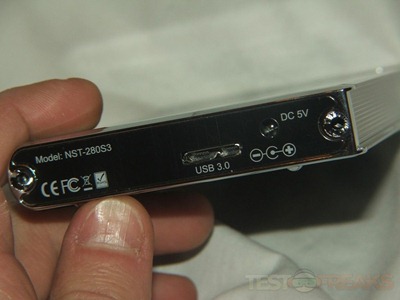 Inside is a hard drive tray actually with the SATA connections on it.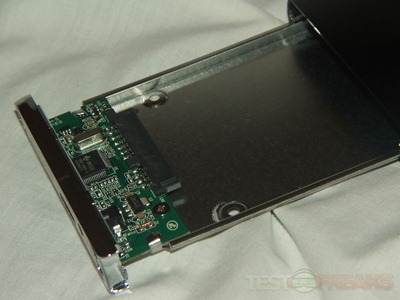 Specifications:
Vantec NexStar 3 SuperSpeed 2.5" SATA to USB 3.0 External Hard Drive Enclosure
Form and functionality collide with style in the NexStar 3 SuperSpeed External Hard Drive Enclosure from Vantec. With its mirror finish and sleek curves, the Vantec NexStar 3 SuperSpeed stands out from the crowd. The sturdy drive cage protects your hard drive while the aluminum case effectively draws away the heat, protecting your drive from overheating. Integrated with the latest USB 3.0 technology, performance is increased by 10 fold offering maximum speeds of up to 5 Gbps. Quickly store and back-up your data with the Vantec NexStar 3 SuperSpeed External Hard Drive Enclosure.
Features:
-Attractive Mirror Finish Design
-Aluminum Casing Cools Down Your Hard Drive
-Maximum Transfer Rates Up to 5 Gbps w/USB 3.0
-Maximum Transfer Rates Up to 480 Mbps w/USB 2.0
-Easily Add Storage to Any System with USB 1.1/2.0 or 3.0
-Backwards-Compatible with USB 2.0 or 1.1
-Hi-Quality Shielded USB 3.0 Cable Ensures Data Integrity and Speed
-Supports ALL 2.5″ Hard Drives (7mm, 9.5mm, 12.5mm, SSD)
-Hot-Swappable: Plug & Play Without Rebooting
-Attractive Blue LED Indicates Power & HDD Activity
Specifications:
Model: NST-280S3-BK
Device Support: SATA I/II Hard Drive
Device Size: 2.5″
Internal Interface:     SATA
External Interface: USB 3.0 (Backwards Compatible With USB 2.0 & 1.1)
HD Capacity: Up to 2TB*
Material: Aluminum
Dimension: 141 x 82 x 18mm
Price: $34.99 (From Amazon at time for review)

For testing I decided to use both a regular Samsung 5400RPM 500gb hard drive and the OCZ Vertex 2 E 120GB SSD.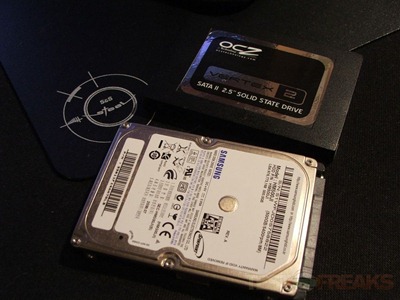 To install the drives you'll need four screws, you just stick connect the drive to the SATA connectors, then flip over the tray and use the four screws to hold the drive in place. Then you'll need the two longer blacks screws to secure the  end of the enclosure the the housing.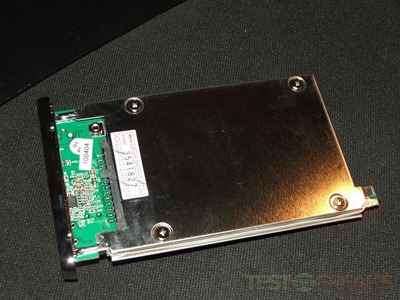 I like having the tray in there, it provides a nice stable base for the hard drive to be attached to, unlike other enclosures where there is no tray and the drive just sort of floats in the casing.
When powered on the front lights up blue and then it will blink with activity.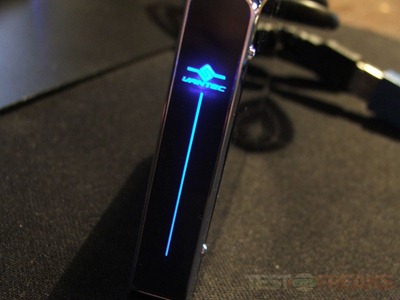 The drive enclosure itself is very nicely made, one of the nicest enclosures I've ever had the chance to review actually. It's essentially the same as the NexStar 3 3.5" Enclosure, just smaller, get both and you'll have a matching set for all your external hard drive case needs..
For testing I compared USB 2.0 versus USB 3.0 using three tests, ATTO, Crystal DiskMark and SiSoft Sandra 2010 removable Storage Test.
First up let's look at ATTO results:
The hard drive is only a common 5400RPm one, so the original speeds aren't that fast to begin with, but as you can see, we've more than doubled the speed when going to USB 3.0.
Here's the results using the SSD:
Here we see we get almost four times the transfer rate going to USB 3.0 for read speeds, and about three time for write speeds.
So next is Crystal DiskMark:
Here we see almost three times the speed for the Sequential tests..
Then we have the SSD tests:
Again a nice improvement in speeds..
Then finally I've got the results for the Removable Benchmark from SiSoft Sandra Suite.
Removable Storage
Benchmark removable and flash devices.
Combined Device Index: is a composite figure representing an overall performance rating based on the average of the Combined Index figures over the four file sizes. (Higher is better, i.e. better performance)
Endurance Factor: is a figure representing the Wear and Life Expectancy of flash devices; this is obtained by dividing the average performance (normal condition, i.e. sequential write) to the lowest performance (high-stress condition, i.e. same block re-write).
It measures the relative improvement of endurance caused by the wear leveling or flash management algorithm; the absolute endurance of a device (i.e. its expected life-time) is directly dependent, in addition to this Endurance Factor, on the nominal manufacturer rating of maximum erase/reprogram cycles, which is typically 100,000+ for SLC and 10,000+ for MLC devices. (Higher is better, i.e. longer life-time for the device)
We'll we see some pretty big improvements in this test when going to USB 3.0.
The USB 3.0 cable that comes with this enclosure is the 'Y' style so it has an extra power connection on it if need be. I tried it both ways, with and without the power connecter in and the speeds were the same. The extra connection is more likely for a laptop where the USB port won't be able to provide enough power to run the hard drive, on a desktop computer there should be mor3 than enough powering coming through the port.
On a side note, I've never once come close to the 5Gbps of USB 3.0 for anything I've ever owned or reviewed, but that is one of those 'up to' type of things, where you really shouldn't expect it. That's just like USB 2.0 that claims speed up to 480 MBps which is really about 60MB/s, I've never hit those speeds either. So if you're really expecting to hit that 5Gbps, don't, it's not going to happen… There's several factors involved like overhead of the bus, the system itself and other things that factor in. I don't like the fact that they boast these speeds, for anything, not just USB, and that the end-user will never see them. Some standardization needs to be put into place so users actually know what the truth is and what's really to be expected.
Conclusion:
The Vantec NextStar 3 2.5" enclosure is very well made and it provides good protection and since it's metal it will dissipate the heat to help keep your drive cool. The performance of th4e enclosure is on par with others I've tested, so the performance is decent.
The enclosure itself though has a glossy finish that will collect fingerprints and dust, so you might be spending some time keeping it clean.
The included case is nice, it's a durable nylon with two pockets, one for the drive itself and on for the cable, just grab and go.
Pros:
+Very well made
+Looks great
+Decent performance
+Includes nice carrying case
Cons:
-Glossy finish collects fingerprints and dust
| | |
| --- | --- |
| Grades: | |
| Overall | |
| Design | |
| Performance | |
To learn more about our review policy please visit this page HERE.