I've been playing Uncharted Drake's Fortune for a while, still haven't finished it and I have Uncharted 2 sitting on the shelf which I haven't even opened yet and now Uncharted 3 is out. I really like what I've played so far of Uncharted, now that 3 is out it makes me want to finish the ones I have so I can go and grab this one…..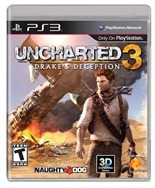 In the franchise's most compelling plotline yet, the tradition of exploring real-life historical mysteries continues with a quest for a legendary city lost to the sands in a desert that has ties to a lost chapter in the life of Sir Francis Drake, the reputed ancestor of Nathan Drake. Drake and his mentor, Victor Sullivan, travel through treacherous, new environments—including London, France, Syria, and the vast Rub' al Khalidesert—as they unravel a complex conspiracy involving an enduring secret society led by their main antagonist, Katherine Marlowe. The deeply emotional narrative and award-winning motion-capture performances in UNCHARTED 3 immerse players in the role of Nathan Drake as he tests the limits of his strongest relationships and is forced to confront his past and his very identity.

UNCHARTED 3 brings the story and characters to life through powerful set pieces and epic combat sequences only made possible by the Naughty Dog Engine 3.0. Pioneering sand technology recreates the harsh desert of the Rub' al Khali with sand that displaces, swirls, and flows realistically in precise rendered detail. Effects such as fire and water have been overhauled to make each environment unique and interactive allowing gamers to rush through walls of water, aim and shoot through sloshing pools, and escape a chateau engulfed by fire that curls, billows, and smokes as it burns. UNCHARTED 3 can also be played entirely in stereoscopic 3D, which provides deeper immersion into the cinematic presentation and overall gameplay experience through such enhancements as an added sense of depth and scale to environments and an increased feeling of vertigo during set-piece moments.

Fast-paced gun combat, platforming, and puzzle solving all make a grand return alongside superior fighting mechanics. The enhanced melee combat system allows players to engage in brawl-style combat, with multiple enemies at once, using a combination of punches and kicks to shake off opponents. Drake can launch contextual attacks by using objects found in the environment, like an empty bottle, as improvised weapons. The game also features an expanded move-set including climbing backwards and traversal across physics-based objects, such as a crumbling staircase, a swinging chandelier or a fully realized, massive cruise ship that is tossed back and forth by a procedurally generated, real-time ocean.

Competitive Multiplayer and Cooperative Modes

In addition to the explosive adventure of the single-player campaign, UNCHARTED 3 returns with a full evolution of its cooperative and competitive multiplayer experience, introducing online players to expanded feature sets and deep social media integration. The dynamic cinematic experience and high-action, grand set-pieces that are hallmarks of the UNCHARTED series have been incorporated as playable components of the multiplayer maps. This brand new 10-player, action-adventure competitive multiplayer launches with a wealth of new and improved customization features that give players the freedom to define their own unique play styles within the game like never before. Leveraging Loadout slots, upgradable Boosters, Weapon Modifications, hundreds of mix-and-match character accessories and an emblem editor, the options are limitless for enhancing and personalizing in-game characters.

With multiplayer modes across 11 different maps, players can challenge each other in Three Team Death match, Free-for-All, Team Objective, Plunder, or the classic Team Deathmatch. Utilizing a new inherent player balancing system, matches are ensured to stay competitive by matching players based on player levels and by introducing Power Plays and gameplay modes, like Overtime and Sudden Death, to increase the intense competition between teams. Alongside the competitive mode, the local and online cooperative modes in UNCHARTED 3 encourage three teammates to play through rounds of objective-based scenarios, working together against the clock to collect and return idols or defend against waves of enemies with limited lives. Additionally, Co-op Adventure features a unique story arc found only in this mode that spans across five different levels as Drake and Sully embark on a mission to track down a rare and valuable Janus Head treasure. With a unique set of Co-op only Boosters and Kickbacks it'll be up to the players to decide how they work together to solve all the Co-op missions.

Taking the online experience to the next level, Naughty Dog has integrated popular social networking sites like Facebook and YouTube in groundbreaking ways to create a compelling community experience, leveraging these popular social media platforms to share timely, relevant in-game content and activity to a broader network of friends. Players will be able to view their full list of Facebook friends, share treasures and post videos, providing a quick and easy way to participate with friends online outside of PlayStation®Network. An enhanced Cinema feature delivers a new suite of editing tools, including a rewind button and full camera control, to create highlight reels and the ability to upload them to YouTube and Facebook directly from within the game. With the launch of UNCHARTED TV, as players direct and publish their own unique content, the best user-generated content and videos from YouTube will be highlighted within the multiplayer interface.

UNCHARTED 3: Drake's Deception is available exclusively for the PS3™ system for $59.99 MSRP and will include an Online Pass activation code that provides access to free online multi-player gameplay for the household. Also being released today is the PlayStation 3 UNCHARTED 3: Drake's Deception hardware bundle for $299.99 MSRP. This limited edition bundle includes a 320GB PS3™ system, a full Blu-ray™  copy of the highly anticipated UNCHARTED 3: Drake's Deception game, and a free month of PlayStation®Plus, a premium subscription service that gives consumers access to added features including automatic downloads, online storage for game saves, free games, exclusives, and discounts.

UNCHARTED 3: Drake's Deception is rated T for Teen by the independent Entertainment Software Rating Board (ESRB). 

 http://www.us.playstation.com.