We haven't heard much from Verbatim at CES, but here they are with this one about their new USB 3.0 portable HDDs and then I'll have a follow up as well.
"We're thrilled to debut our innovative line-up of portable hard drives at CES 2011 and to deliver exciting new options in this rapidly-growing category for both Mac and PC users," said Charles Klinker, Verbatim's Director of Marketing, HDD Products.  "Verbatim's timely new portable solutions capitalize on the ongoing transition to USB 3.0 and connect consumers with the fastest transfer speeds to safely store and share favorite photos, music, files and more at home and on-the-go!"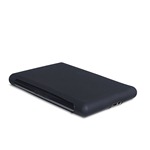 Verbatim's new USB 3.0 HDD product to be on display at CES includes:
·       Titan XS™SuperSpeed USB 3.0 – Verbatim's popular Titan XS™, one of the smallest hard drives in the industry, now joins forces with SuperSpeed USB 3.0 for an irresistible combination of speed and storage.  The rugged and sporty Titan XSSuperSpeed USB 3.0 is housed in a shock-resistant rubber enclosure that protects against rough-and-tumble use.  The new 3.0 drive features transfer speeds up to ten times faster than USB 2.0 drives and is backwardly compatible.  The pocket-sized unit remains big on storage – with 500GB available capacity – and includes Nero BackItUp & Burn software for full system backup and restore.
·       Store 'n' Go® SuperSpeed USB 3.0/FW 800 – This sleek portable hard drive is the perfect companion for Mac users!  The glossy black Store 'n' Go SuperSpeed USB 3.0/FW 800 is compatible with all MacBook® models and provides ample storage with eye-catching minimalist design.  Available in 500GB, the unit is HFS+-formatted specifically for the Mac operating system and features both USB 3.0 and Firewire800interfaces, providing this community of users with an extremely efficient and stylish choice for portable storage!
visit the web site at www.verbatim.com