And here's some more Verbatim new from CES, they've got several announcements inside including new flash drives and SSDs.
"Verbatim's new assortment of flash drives and memory storage products are powerful, big on storage capacity and designed to seamlessly support consumers' connectivity at every click," said Mark Rogers, Verbatim Product Manager, Flash Memory.  "We're particularly proud of our 2011 introductions, including our super-quick, cutting-edge USB 3.0 offerings, which deliver the fastest performance and most generous capacity and versatility yet."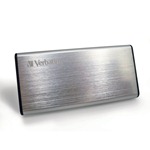 Verbatim's new array of flash drives and memory storage gear to be on display at CES includes:
·       Verbatim Netbook USB Drive – This low-profile and lightweight new flash drive – only about the size of a quarter – is simply inserted into a netbook or other electronic device with a USB port and left in place for always-ready removable storage.  The drive can be unplugged to easily exchange files, as needed.  Once inserted into the USB port, the Verbatim Netbook USB Drive protrudes only 5mm, allowing it to remain in the device on an ongoing basis for convenient, long-term use.  The unobtrusive design makes it the ideal stay-in storage solution for netbooks and notebooks as well digital picture frames and desktop PCs, where a sleek profile is desired.  The new drive works with Windows, Mac and Linux operating systems and is available in storage capacities of 4GB, 8GB and 16GB. A special Car Audio USB edition, specifically targeted at automotive applications is also available in a capacity of 8GB.
·       Verbatim 64GB SDXC Memory Card – The newest format in the Secure Digital (SD) arena, the Verbatim 64GB Secure Digital Extended Capacity (SDXC) memory card, is compatible with SDXC devices supporting both the High Speed Bus Interface (Class 10 speed rated) and the latest UHS-1 (Ultra High Speed) Bus interface, which allows transfer rates of up to 104MB/sec.  Its considerable capacity and speed support real-time high-definition video recording as well as photography.  The card requires an SDXC host device or SDXC compatible reader with PC-supporting exFAT file system and is backed by Verbatim's signature Limited Lifetime warranty.
·       Verbatim USB 3.0 External SSD – This ultra-slim, easy-carrying 32GB to 128GB capacity external SSD with USB 3.0 interface, supports transfer rates of up to 190MB/sec when used with the USB 3.0 host system.  Utilizing 8-channel I/O, the Verbatim USB 3.0 External SSD is designed for lightning-fast transfers, making it an ideal choice for data-intensive operations such as HD movie editing, photography and performance gaming, on the go.  The drive also is compatible with USB 2.0/1.1 ports.  Featuring a sleek yet rugged brushed aluminum exterior, the Verbatim USB 3.0 SSD includes a drawstring carry pouch for storing the device and its included USB 3.0 cable and is backed with Verbatim's Limited Lifetime Warranty.
·       Verbatim Store 'n' Go 3.0 Flash Drive – Tapping into the high performance potential of the USB 3.0 interface with the convenient form factor of a standard flash drive, the Verbatim Store 'n' Go 3.0 Flash Drive offers extreme speed, large capacity and plug-and-play operation.  Compatible with Windows, Mac and Linux operating systems, the drive also works with USB 2.0/1.1 ports.  The unit supports transfer rates of up to 100MB/sec on USB 3.0 host systems.  With a retracting design that protects the connector, Verbatim Store 'n' Go 3.0 Flash Drive is available in capacities of 8, 16, 32, and 64GB and is backed by the company's Lifetime Warranty.
·       Verbatim 2.5" SATA II SSD – Intended as HDD replacements for laptop PC's, Verbatim's 2.5" SSD provide data transfer rates up to 250MB/sec READ and 220MB/sec WRITE transforming the performance, reliability and battery life of your PC. Offered in capacities ranging from 64GB to 256GB, Verbatim 2.5" SSD provide faster system boot up, improved system responsiveness, improved battery life, and increased shock resistance over HDD equipped systems. Includes 3.5" bay adapter and power cable for optional desktop installations. Backed with a 5 year warranty, Verbatim's 2.5" SSD offers advanced wear leveling, and error correction for reliable, long term performance.  The 2.5" SSD's will also be offered in a DIY upgrade kits, complete with ghosting software, data transfer cable, and detailed instructions to facilitate end user installation, later this year.
visit the web site at www.verbatim.com