Now affordable is more my style, I may have to go 3D this year and replace my current Vizio 47" HDTV with one of these.  One of the main reasons I think 3D hasn't been that widely adopted is the price, but now Vizio has come to solve that problem of course. They're known for keeping prices low and they make a good product, at least I think they do. The 3D glasses won't be cheap ones either, they're going to be Oakley brand which should make most people happy.
VIZIO announced today a full line of Theater 3D HDTVs that deliver superior 3D performance for all, with sizes ranging from 22 to 71 inches. Theater 3D HDTVs offer crystal-clear, flicker-free 3D that's up to 2x brighter and significantly reduces crosstalk compared to current Active Shutter LCD TVs. Best of all, Theater 3D eyewear is battery-free, lightweight and comfortable, works with most 3D movie theaters, and will be available in a range of styles and colors from brand name designers.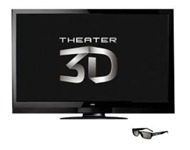 "Theater 3D is a significant move forward from the conventional Active Shutter TVs introduced last year," said Matthew McRae, VIZIO Chief Technology Officer. "Users immediately experience a brighter picture, no flicker, less crosstalk, and the comfortable glasses enabling them to enjoy the content without the technology getting in the way.  And by making this next generation 3D affordable VIZIO aims to fulfill our brand promise of Entertainment Freedom for All."
From the essential E series, to the thoughtfully designed M series, and ultra-high performance XVT series, there will be a Theater 3D model for every movie buff, sports fan, gamer, and anyone else looking for a better, brighter 3D experience, starting this spring.
The Best 3D Experience
VIZIO Theater 3D™ offers consumers a revolutionary new technology that renders flicker-free and brighter images and significantly reduces crosstalk compared to current Active Shutter LCD TVs.
By utilizing a circular polarized 3D filter, the burden of 3D processing is built into the TV, allowing Theater 3D eyewear to be free of the batteries and shutter mechanisms inherent in Active Shutter 3D TVs.
Theater 3D offers several performance advantages over conventional, "active" 3D systems. Theater 3D is up to 2x brighter, and significantly reduces crosstalk compared to current Active Shutter LCD TVs, handles fast motion without blurring, has a wider horizontal viewing angle, and reduces flicker that may cause eye strain found in active shutter 3D solutions. In addition, Theater 3D eyewear can be used to view 3D movies in a majority of movie theaters.
Depending on the model up to four pairs of the lightweight and comfortable Theater 3D glasses are included with each TV. With this, VIZIO has eliminated two of the most common objections to 3D HDTV purchases: the need to wear bulky 3D glasses that require batteries or recharging and the need to invest in expensive additional 3D glasses so the entire family can enjoy it together. By incorporating all of the 3D processing into the TV instead of burdening the eyewear, as is the case with Active 3D, VIZIO Theater 3D enables users to wear comfortable, eco-friendly, battery-free eyewear instead of Active Shutter glasses that are heavy, awkward, and require recharging and other maintenance.
Support for the Widest Array of 3D Formats
Each Theater 3D™ model supports the widest selection of 3D formats to ensure compatibility across Blu-ray, broadcast, cable, satellite, and gaming.  This includes Frame Packing, Side-by-Side, Top and Bottom, SENSIO® HiFi 3D and the RealD Format.
"DisplaySearch is forecasting that North America 3D TV shipments are forecasted to increase by more than 300% in 2011 to 7M units**, driven by a range of new 3D TV types, including circular polarizer filter systems like VIZIO's Theater 3D," stated Paul Gagnon, Director of North America TV Market Research, DisplaySearch.
VIZIO's Leading LED Picture Quality
Some Theater 3D models feature VIZIO's Edge-Lit Razor LED™ technology with Smart Dimming™. Razor LED HDTVs with Smart Dimming™ intelligently control the array of LEDs, which are organized in 32 zones. Working frame by frame, based on the content being displayed, Smart Dimming adjusts brightness in precise steps down to pure black (where the LED is completely off). This cutting-edge technology minimizes light leakage and enables a Dynamic Contrast Ratio of 10 Million to 1, for blacker blacks and whiter whites.
Certain XVT models utilize VIZIO's Full Array TruLED™ backlighting with Smart Dimming™ technology. With over 120 zones across the entire display, TruLED backlighting is able to control specific areas of the image, depending on what's on screen, resulting in the most incredible and life-like images that "pop" off the screen.
VIZIO Internet Apps™ (VIA)
All Theater 3D™ models feature VIZIO Internet Apps (VIA) Connected HDTV platform. VIA delivers unprecedented choice and control of web-based content directly to the television without the need for a PC or set-top box. Current Apps from top online content and service brands include: Netflix, Amazon Video On Demand, VUDU, Pandora, Facebook, Flickr, Rhapsody, Twitter, and Yahoo! TV Widgets. Additional Apps recently released include Fandango®, iMemories, MediaBox™, My-Cast®, TuneIn Radio™, Web Videos, Wiki TV and Yahoo Fantasy Football.
Navigating VIA is simple, using the included Bluetooth Universal Remote (optional on some models) that includes a QWERTY keypad. State of the art wireless Internet access is available through built-in 802.11n Wi-Fi, allowing viewers to enjoy the convenience of on-demand movies, TV shows, social networking, music, photos and more with just the push of a button.
VIA Plus HDTVs
The XVT3D476SV and XVT3D556SV are part of the new VIZIO VIA Plus ecosystem that combines the convenience of entertainment on demand with a consistent and seamless experience across all devices in the ecosystem, including the VIA Phone and VIA Tablet.  VIA Plus TVs, which will incorporate the Google TV platform, feature a sophisticated and intuitive user interface that allows users to access their favorite apps as well as search and browse the web using a premium Bluetooth QWERTY universal remote with touchpad and built-in dual-band 802.11n Wi-Fi.
Advanced Audio
To compliment the 3D video of the Theater 3D™ TVs, M and XVT models include the latest high performance audio technologies from SRS Labs. SRS technologies help deliver an immersive, virtual, high definition surround sound through SRS TruSurround HD™. TruSurround HD creates an immersive, feature-rich surround sound experience from two speakers, complete with rich bass, high frequency detail and clearer dialog. In addition, SRS TruVolume™ provides a consistent and comfortable volume level while watching TV programming for a more enjoyable multimedia experience.
Certain VIZIO Theater 3D TVs will feature SRS StudioSound™ HD – the ultimate all-in-one audio suite designed specifically for Flat Panel TVs. Years of excellence in audio, practical experience, and patented technologies allow StudioSound HD to deliver the most immersive and natural surround sound ever using built-in TV speakers. The suite also delivers remarkably crisp and clear dialog, rich bass, an elevated sound stage and consistent, spike-free volume levels. StudioSound HD features optimized audio presets for movies, news, sports and music while also providing a built-in EQ toolset for peak audio performance.
Theater 3D in Style
In addition, Theater 3D eyewear will be available from well-known designer brands, including Oakley who has already launched one line of 3D eyewear that is also compatible with Theater 3D HDTVs. Launched recently as the world's first optically correct 3D glasses, Oakley 3D Gascan® utilizes the company's proprietary HDO-3D™ technology for superior visual clarity and signature Oakley comfort.
VIZIO continues to lead the HDTV marketplace and with the added performance and value of Theater 3D in these models for 2011: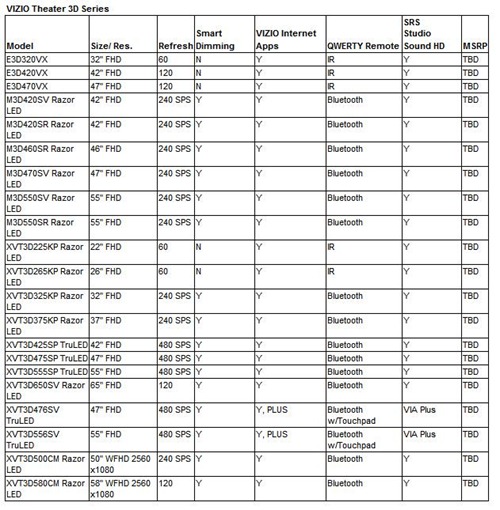 Web Site: http://www.VIZIO.com