…and in more Vizio news today, this of course ties is with he other two I just posted, it's the announcement about the VIA Plus internet app system that will connect all Vizio products together including their phone and tablet along with blu-rays and HDTVs.
VIZIO announced today the VIA Plus ecosystem, the next generation of VIZIO Internet Apps that will provide consumers with a connected CE experience unlike any other.  The new ecosystem will allow for unified on-demand content and application consumption across multiple consumer electronic devices including VIZIO HDTVs, Blu-ray players, SmartPhones and Tablets.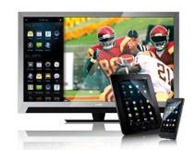 "The promise of a unified consumer experience across multiple screens and devices has been unfulfilled until now," said Matthew McRae, Chief Technology Officer at VIZIO. "With VIA Plus, VIZIO is delivering the first true integrated ecosystem across multiple classes of devices and enabling a simple yet powerful interface for consumers to enjoy their applications, services, and content."
VIA Plus expands upon the VIA experience and extends it to new devices creating a world-class connected ecosystem that combines the latest technologies and a unified user experience to provide the very best HD entertainment experience. Consumers will be able to begin content consumption from one device and seamlessly transition the content to another device allowing entertainment to be continuously enjoyed anywhere and anyplace without interruption.
VIA Plus HDTVs and Blu-rays will incorporate Google TV and feature a premium Bluetooth QWERTY universal remote with touchpad, dual-band 802.11n built-in wifi and enhanced onscreen navigation including search and web browser.
The VIA Plus Phone and Tablet will be based on the Android Platform and feature built-in IR blaster with universal remote control app, HD playback with HDMI output, and access to hundreds of thousands of apps in Android Market.
"In the upcoming era of connected digital devices, we believe the companies that stand the best chance of success are those that realize the consumer experience isn't just about hardware. Rather, it's the integration of hardware, software, and services toward a specific usage model that will ultimately offer a unique and potentially lasting consumer experience," said Richard Shim, mobile computing analyst with DisplaySearch. "One of the usage models that we believe can be addressed most readily is the consumption of high-quality digital entertainment."
More Freedom with VIA Plus
With VIA Plus devices, consumers will be able to search, organize and access their favorite apps more easily than ever. At its core, the VIA Plus experience is a unified, consistent and intuitive user interface that allows consumers in just a few clicks to quickly group favorite apps by categories, customize the dock with their most frequently accessed apps or switch apps with the multitasking bar.
"We know we have tremendous interest and support from our current distribution for new VIA devices, but always are mindful of what the end user wants. With the proliferation of platforms and apps now available to connected devices, navigating and learning different interfaces can be frustrating to end users," said Mr. McRae. "With that in mind, VIA Plus presents a simple, consistent, and elegant interface so users can quickly access the entertainment they seek on devices from a 4" mobile phone to a 65" Theater 3D HDTV."
VIZIO will be demonstrating VIA Plus devices in their private CES showcase at the Wynn Hotel from Janurary 6 to 9, 2011.