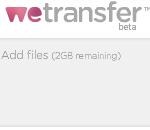 Hmm.. transferring files via email can be problematic as there's usually a size limit. If you want to send large files then you've got to break them up for emails, and usually if it's some sort of .EXE file then you can't even send it. If you need to transfer large amounts of files, you usually have to pay for it or deal with advertisements and long wait times and it can be a hassle usually. Today though a new company has just announced a service called WeTransfer. it's a 100% free file transfer service that lets you transfer up to 2gigs at a time, and the speed is only limited by your own connection. There's no registration, yes you have to give your email address but they promise no spam, you can send one large file or multiples up to the 2gig limit. It almost sounds to good to be true doesn't it? I'm going to have to hop over there and try it out for myself and I suggest you do the same thing..
So what's all the fuss about? In a nutshell:
    
    - It's 100% Free

    - 2GB limit per transfer

    - No registration

    - Easy to use

    - Send multiple files at once

    - Innovative design

    - No spam
 

http://www.wetransfer.com
Who are We?
WeTransfer is a team, based in San Fransisco and Amsterdam. We've been active and trendsetting, on and around the web, for the last 15 years. We seek to impress our customers, our co-workers and our partners. We transfer.