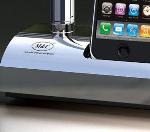 Ok I have to admit I like this product, even though I don't own an iPhone.. if the dock on it was compatible with other phones I'd buy it.. This new product from M&C is an LED desk lamp with an iPhone/iPod dock in the base, but that's not all it can charge most any other mobile phones with included tips, and it has a USB port for charging other things, but the best part is that it can even charge most laptops or netbooks as well! It looks great and it's only $89 and I think the name 'The Most Talented Light' is aptly suited to this product and it even comes in eight colors….
Who does not know the stress and inconvenience experienced because of misplaced or forgotten power adapters for notebooks, mobile phones, iPhones or iPods? The Most Talented Light eliminates these hassles and worries about searching, forgetting, or worse, losing power adapters for these devices. Being The Most Talented Light, it charges most notebooks and mobile phones in the market and all iPhone and iPod products. The product ships with all necessary accessories, including cables and plugs to cover the majority of these important every-day devices.
Apart from offering clear user benefits and comfort as mentioned, The Most Talented Light also fulfils the need for energy-saving lighting and thus is environmentally friendly. By using a state-of-the-art 3-Watt LED module with special diffuser to provide a pleasant light, energy consumption is cut to a minimum.
As The Most Talented Light is a stylish LED desk light and multi-charger at the same time, it is the ideal product for use in the home, office and hotel environments.
The premium-quality product comes in 8 colours and can be easily and safely ordered at www.tlight.cc and will be shipped by EMS worldwide.