The new headphones from Wicked Audio are called the Helix and they're meant for people with active lifestyles.  Sometimes earbuds just don't cut it when running or doing any rigorous activity so Wicked came up with a solution with an over the ear attachment like you would see on a Bluetooth headset to keep the earphones in place.
Wicked Audio, manufacturers of aesthetically appealing headphones, is proud to announce the availability of its latest earphones, the Wicked Helix. A sneak-peek of this newest model was debuted at the 2011 Consumer Electronics Show, and now this popular addition to the Wicked family is available for consumers nationwide.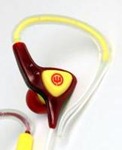 With the Helix earphones EarHugger technology, you are free to be as active as you'd like without worrying about them falling out of your ears. They are designed to fit comfortably and snug around your ear, guaranteeing an enjoyable listening experience. 


The Wicked Helix's have a 10 mm driver and feature maximum noise isolation, which inhibits ambient noise, ensuring pure sound quality. The tip is gold-plated to prevent damage and corrosion, and the cord measures 1.2 meters long for maximum flexibility.
"Wicked Audio is always looking for a way to cater to active consumer's needs, after all, we endorse a number of extreme sports athletes." said Paul Marshall, VP of Sales, Empire Brands. "The Helix earphones offer our customers a much-needed solution to rock out to their favorite tunes without any worry of losing your earphones."
The new Wicked Helix earphones are offered in three bold color combinations: Blue/Orange, Magenta/Yellow, and Black/White. They are currently available for $14.99 at FYE, Fry's Electronics, InMotion, Verizon Wireless and other select international retailers.