The birds are back! This time our fine feathered friends are traveling to Rio to rescue their fellow birds who are being held captive by smugglers. Today the Amazon Appstore for Android was unveiled and with it the release of the newest version of everyone's favorite way to pass the time called Angry Birds Rio. I figured I would take a quick look at it for you, it's certainly worth getting I think.
Specifications: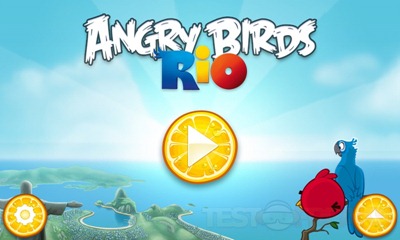 Angry Birds Rio only comes with two levels, the Smuggler's Den and Jungle Escape. There are four more levels scheduled to be released in May, July, October and November of this year. I think that's rather sad honestly that you only get two levels for such a great game. At the bottom of the screen is an Awards trophy.
Press the trophy and you'll be taken to the screen showing the things you found, or your awards. I finished the game, or at least the two levels and didn't get much as I was sort of in a hurry.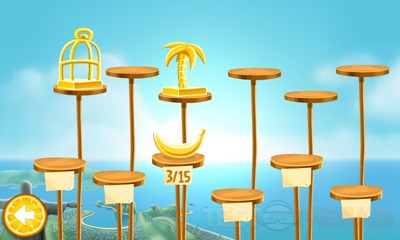 When you first start the game you'll get to see the now common Angry Birds cinematic telling the story.
The levels or sections are set up the same way as the original Angry Birds, numbered, to move to the next one you'll need to complete the one before it.
As I said I'm playing Angry Birds on my Samsung Galaxy S Captivate, and I had no problems playing it. It played very smoothly, and it looks great.  Here's a few screen shots from the Smuggler's Den level. It's dark and gloomy inside, but the graphics are very nice, the details are excellent.
When you move into the Jungle Escape area you'll be greeted with a new enemy, monkeys. It's set in the Jungle so you'll find bananas, trees and jungle like structures.
The monkeys are animated and sometimes they won't fall, they try and cling on to whatever they're perched upon. When you lose to the monkeys they laugh at you which just makes you want to do better the next time. The monkeys are kind of funny actually.
Conclusion:
Angry Birds Rio is an excellent and fun next chapter in the Angry Birds saga, that's for sure.
Personally I think it's a bit too short for my tastes, but we'll just have to wait for the next levels to be released, a long time for them to be released that is.
The graphics are very good with excellent attention to detail.
I for one can't wait for the next update.
Pros:
+It's the Angry Birds!
+Excellent graphics
+New enemies to defeat
+New areas to play
Cons:
-Fairly short gameplay time
-Must wait months until next update to play more levels
| | |
| --- | --- |
| Grades: |   |
| Overall | |
| Design | |
| Performance | |
To learn more about our review policy please visit this page HERE.