HTPCs are great products, but they can be costly and take up a bit of room, there are alternatives though in the form of external hard drives with multi-media capabilities. One such product is what I have for review today, the Cirago CMC1000 Multimedia Center which is essentially an external 3.5″ hard drive with the functions of an HTPC built-in. The CMC1000 features a remote control, HD output including HDMI and Component, wireless and wired network connections and the ability to act as a DVR. It all sounds great right? Well read on to find out what it's really like…
First up I've got the video unboxing tour for you:
and here's some still pictures to get a better look:
Specifications:
Cirago CMC1000 Multimedia Center
The Cirago Multimedia Center delivers a comprehensive multimedia experience in an amazingly small device. Play videos in a variety of formats, images and digital music from the built-in storage, network-connected PCs, attached USB devices and memory cards. Record video from any device that can output to AV; recordings can be scheduled and time-shifted. All functionality can be easily accessed from the intuitive menu with the included.
Features:
* Record video via AV input, supports timer and time shift
* Simultaneous playback and recording
* Share video, music and photos
* Built-in LAN networking, wireless networking out of the box
* Available with 1 TB and 500 GB capacity
* Available USB port to add additional storage space
* Card reader (MS, SD/MMC) for easy access to media
* Active LED front indicators
* Multi-language user interface
* Aluminum Case for efficient cooling
* Includes stand for upright positioning
Specs:
Interface: USB 2.0; Ethernet: wired and wireless (via included USB adapter)
Form Factor: 3.5″
Power: 12V AC/DC adapter included
Video Output: HDMI up to 1080i, AV, YPbPr component
Audio output: SPDIF (optical or coaxial), stereo
Video input: AV Input, 720 x 480
Recording Format: MPEG2
Supported video formats: MPEG1 (dat, mpg), MPEG2 (vob, mpg, ts), MPEG4 (avi, divx, xvid), ISO
Supported audio formats: MP3, WMA,, OGG
Supported image formats: JPEG, JPG, BMP
Warranty: 1 year
Dimension: 7 x 8 x 2.2 in (unit)

Being the curious type I had to take it apart to see what's inside, and I found a Western Digital hard drive, model wd5000KS which is a 7200RPM model that supposedly fast and quiet. Not sure why they wouldn't use a 'green' drive though for something like this.
Flipping it over we can get a look at the circuit board, which doesn't tell us too much really:
There are stands included that need to be attached, a couple screws and you're done:
Turing the box on you're greeted with the main menu and a few choices, AV In, Browse Media, Record, Copy Files and Setup.
The first thing to look at is the setup, here you can change everything about the box from audio to video to your network settings and to formatting the hard drive. Speaking of hard drives, you can format it to NTFS or FAT32 or a combination of both, BUT and that's a big BUT you can ONLY record to the FAT32 partition, meaning DVR functionality and copying files can only go to the FAT32 partition. Using FAT32 you're of course limited on the file size you can write, meaning if you've got large video files you have to write them to the NTFS partition via USB.
I used the included USB dongle to connect to my wireless network, fairly painless, I'm using WPA so I just needed to enter the password, and in a few seconds it was hooked to my router. The dongle connects directly to the CMC1000 and sticks out of the side, it would have been nice to have two USB ports, one on the back for the dongle and then one accessible on the side to use, as is now, if you want to use the USB port you'll have to unplug the wireless dongle. I also do not like having the dongle stick out like it does, I've got kids, and I had the box sitting on the floor while I was testing it, well they knocked it over and the dongle USB connector got bent, not broken, it bent back into place so no harm done, but bending it and re-bending it can't be good if done enough times.
This is not a NAS box as one might expect it to be, especially having dual network connections, and the wired LAN connection is only 10/100 which is odd considering most everything these days is 10/100/1000.
So it's not a NAS box, then one might wonder how you're going to get files on it, well you can do that on of two ways, via USB cable or your network, yes I said network, but no it's not a NAS box. The USB connection requires you to take the box and its power supply over to your computer and hook it up via the USB connection then transfer the files.
You can transfer files over your network, this is done though through the box itself, using the Copy Files choice on the main menu.
The actual interface for accessing the content of the CMC1000 is basic, just file and folder views with previews for pictures and videos which is nice sometimes…
Actually connecting to your network to stream videos takes quite a while, you'll see you're connected in the Setup menu, but the box really isn't on the network just yet, it takes about five minutes before the network content is accessible via the LAN option. Some connections might require ID and Password, but they can be saved for future reference so you don't have to input them every time you connect.
Streaming video is nice actually, playback is smooth and I didn't run into any problems, and this was over the wireless connection. The one thing I don't like though is when browsing the network content, if you pause too long on a title the box will start to check your connection speed and then start previewing the movie and you can't stop the box from doing this.
Playing actual videos with the CMC1000 look great, I used the HDMI connection to hook up to my Vizio 47″ LCD HDTV and the picture was fairly decent, but as expected it's only as good as the source material. You're also only limited to a very select few video codecs that the box can play.
Before receiving the CMC1000 for review I was using my Mvix MV-4000u, it's older but it works fine for what I need.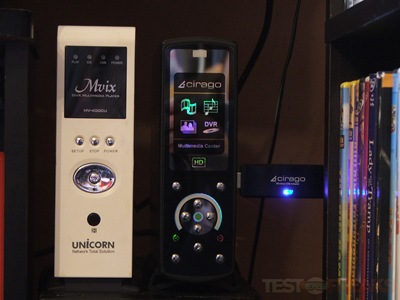 One thing about playing videos that bothered me with the CMC1000 was that there was no way to adjust the size of the video. There is a zoom feature, but it's just zoom, on my Mvix box I've got choices to set the size via remote like Full Screen, Pan and Scan etc, it's a way to get rid of the black lines above and below the videos or the lines that appear on the sides, with the CMC1000 I found no such option, just the zoom which isn't it.
Speaking of the remote, it's not very accurate and has limited range. The range is good enough to be in the same room, 10 feet or so away, but you've got to be pointing directly at the box, and I mean directly at the sensor. I found myself many times just clicking away and nothing happening, very frustrating overall.
The DVR part of the box seems like a nice feature until you realize that the only input is regular A/V, no HD input, just the old Yellow, Red and White RCA connections. To record you set up the schedule and it records to the box, it's basically a VCR of sorts.
The CMC1000 is not a bad concept but it has limited itself by not having gigabit ethernet, no HD inputs, by not being a NAS box and a flawed remote.
Conclusion:
The Cirago CMC1000 Multimedia Center is a nice basic mini HTPC that can work well for those looking for a relatively easy way to get all of their multi-media in one place for easy access.
On the other hand, it's got a lot of flaws to it, it tries to hard to do too much and doesn't really do any one thing very well. The CMC1000 could be an excellent product and hopefully with firmware updates new features will be introduced, especially more video formats and possibly even NAS functionality as it looks like the hardware is there for it.
Pros:
+Seems well made
+Dual network connections
+Various output options
+Fairly easy to use
+Nice quality video picture
Cons:
-Remote is not accurate and has short range
-Limited playable video formats
-No HD input
-Takes quite a while to get onto network
-Only 10/100 LAN
-Not a NAS device as one might expect
| | |
| --- | --- |
| Grades: | |
| Overall | |
| Design | |
| Performance | |