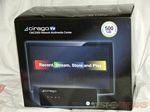 Today for review I've got another multi-media player from Cirago. The product is called the CiragoTV Platinum CMC2000 Network Multimedia Player and it does come with a hard drive, a choice of 500gb or 1TB in capacity, I got the 500gb version for review. I've looked at two other Cirago media players here on technogog but this one is actually a NAS box as well which can be connected wired or wireless. The box itself uses a 3.5" hard drive inside and has connections for pretty much everything including component, composite and HDMI along with optical and coax as well. The CMC2000 even includes a card reader and two USB ports so you can view pictures or play your files from them quickly and easily.

We'll start with the video unboxing first:
Then we've got the still pictures, the CMC2000 comes packaged well in an attractive box.
There's a lot of stuff included with the player, they even give you all the cables you need for whatever type of connection you require. Included as well is the user manual, batteries for the remote and the power supply.
The remote is rather large, but it's got tons of functions on it so you've got total control over the CMC2000.
The box itself is very plain, the front just has a power button and a card reader along with the Cirago logo. There are LEDs behind the shiny cover to indicate power etc.
On the back you'll find all of your connections including two regular USB and one mini-USB that is used for if you want to hook it up to your computer to transfer files. You'll also find component and composite connections along with an HDMI as well, and even COAX and optical connections. The CMC200 has you covered when it comes to connections for sure… On the far right side is a small cooling fan.
Being a reviewer and a geek I couldn't resist taking it apart to see what kind of 500gb hard drive was inside of it. Taking it apart does void any warranty, but I found a Western Digital Caviar Blue SATA 16mb drive in there. Getting it apart though is a small challenge, it's almost as if they don't want you to take it apart, you'll need both a Phillips style screw driver and the star shaped or Torx style as well. Actually they're the security style Torx heads with the pin in the middle of it..
To get to the board I had to remove the HDD cage, under that I found a few chips of note.
The main processor is a Realtek RTD1262 which is an HD MPEG1/2/4 Decoder with MPEG2/4 Encoder, Ethernet, and HDMI.
Here's the description from Realtek:
"The RTD1262 is a highly integrated SoC for Consumer Electronics products requiring High Definition Media Playback, Media Recording & Timeshifting, Wireless/Wired Networking, and Mass Storage capabilities."
There's a smaller Realtek Chip on the board as well which is upside down in the picture, but it's a RTS5151 which is the card reader controller.
The other chip of the note is the Hynix chip which is 512MB of DDR ram.
Specifications:
The CiragoTV Platinum delivers a comprehensive multimedia experience in an a sleek and compact device. Play a variety of video formats, images and digital music from the built-in storage, network-connected PCs, attached USB devices and memory cards. Access and copy files on the CiragoTV from your local network through the built-in NAS feature. Choose between thousands of free internet radio stations. Record video from any device that can output to AV; recordings can be scheduled, edited and time shifted. All functionality can be easily accessed from the intuitive menus with the included remote control.
Features:
* Record video via AV input, supports timer and time shift
* Simultaneous playback and recording
* Built-in LAN networking, wireless networking via optional USB adapter
* Access and copy files on the CiragoTV from your local network through the built-in NAS
* View slideshows, listen to music, edit recordings
* Listen to thousands of free internet radio stations
* Card reader (MemoryStick/MemoryStick Pro,SD/MMC) for easy access to media
* 2 available USB ports for additional storage space
* Multi-language user interface
* Includes remote control
Specs:
Interface: USB 2.0 (host), USB 2.0 (device)
Ethernet :    10/100Mbps, wired and wireless (via optional
Card Reader formats: MemoryStick/MemoryStick Pro, SD/MMC
Power input: 12V, AC/DC 110/240V adapter included
Video Output: HDMI up to 1080i, AV, YPbPr component
Audio output: SPDIF (optical or coaxial), stereo
Video input: AV Input, 720 x 480
Recording Format: MPEG2
Supported video formats: MPEG1 (dat, mpg), MPEG2 (vob, mpg, ts), MPEG4 (avi, divx, xvid), ISO
Supported audio formats: MP3, WMA, OGG
Supported image formats: JPEG, JPG, BMP
Warranty: 1 year
Dimension: 8 x 6.5 x 2.2 in (unit) / 10x 6 x 8 in (retail box)
Price: $189.99 (At Amazon at Time of Review) (not yet released though, available for pre-order)

Before I get into the review, here's a picture of several media box I've got on hand at the moment for comparison.  Two of which I already reviewed here on technogog.
They are the Mvix-4000U (the white on on the left), the stack in the middle is the CiragoTV Mini on Top, then the Patriot Box Office Media Player and then on the bottom is the Cirago CMC2000. On the far right is the Cirago CMC1000 Media Center.
The Patriot Box Office review will be up soon, it came in after the Cirago CMC2000. The Mvix, CMC2000 and CMC1000 all use 3.5" hard drives, while the Box Office uses a 2.5" drive, so that's why it's much smaller than the others. The CiragoTV Mini on top just uses whatever storage media is connected to it really…
When you turn on the CiragoTV Platinum CMC2000 you're greeted a fairly plain menu screen with five options for Video In, Play Back, Browse, Internet Radio and Play List.
Internet Radio is what it sounds like, it allows you to listen to radio over the internet. When I loaded it up it listed over 1700 stations for me to pick from, you can also sort them by category or favorites.
The Playback Option is more for the files you recorded. There are several options across the top for Play, Delete, Rename, Sorting, Title Edit and Tools. Most of them are self-explanatory, but the Title Edit section actually allows you to merge, and even split files, set chapter marks, delete sections of the videos, set the thumbnail of the video and copy them to the other partition.
The main section is Browse where you can access all of your media on the hard drive, network, USB drive or card reader.
The networking section allows you to connect to any available devices:
Across the top of the screen is the categories you can view you media in, whatever is on the drive will be sorted for you.
Under photos it will list the photos and show you a small preview of it, but it will also list any folders that might have pictures in them.
When you go to videos instead of a thumbnail you'll actually see the video playing in the smaller window as a preview.
When you go to full screen mode the prompts appear on-screen in green and black.
Video is smooth, I hooked it up to my Vizio 47" HDTV and it looked fine. It all depends on the quality of the source though.
The CMC2000 will also let you copy files to and from devices and the network.
Overall the CMC2000 is not a bad little media player. I do have one complaint though, once you get a lot of files on it, specifically movies, navigation slows to a crawl, and I think part of it has to do with the preview of the videos that shows in the window. It would be nice to be able to turn it off, or maybe just have a still picture as the preview instead of the actual video playing.
Another small issue that I came across is music files. I transferred a few albums from both my Zune and iTunes folders, the MP3s and WMA files played fine but not the MP4 files that came from iTunes… I know I paid to have all of my music be converted to non-DRM files on iTunes through the iTunes plus program, I'm guessing I just happened to grab one that wasn't converted or something.
The remote works fine, it is a bit large, just what I need though yet another remote to add to my ever growing collection. The range is good on it, and you don't necessarily have to be pointing right at the box for it to work.
As far as sound is concerned it all depends on your system but through my Sony HT-CT100 it sounded very good.
I do have another small complaint though, the UBS ports are on the back of the box, there's none on the front as I think there should be. It's annoying really to have to reach behind the box every time to connect a USB drive to play a media file. It's not bad if you've got the box on top of something, but if you put it in your media center you'll basically have to pull it out or feel around for the USB port.
That's out of the way, to access the settings you just press the Setup button on the remote. Here again navigation is across the top and you can access Video, Audio, Recoding, Networking, System and an option title Misc where it just give you information about the box. You can change many different settings including things like aspect ratio and image quality along with audio and system settings.
I used the wireless dongle that Cirago included for me. Setup was fairly easy, just follow the prompts and fill in any information if needed.
The CiragoTV CMC2000 is a NAS box but it's not one out of the box, at least not the review version I got. To turn it into a NAS box I had to get a small file from Cirago and put it on the HDD of the box. Once I added the file it appeared in my Network Neighborhood as the 'Venus'. There's a new firmware update available that now allows you to change the name of the NAS box if you wish to.
To transfer files it's simple as drag and drop, just double click the Venus icon and it opens up then you can just add whatever you want to it.
The above screen shots were of a transfer via the wireless, it's a small file at 396MB that is going to take about 5 minutes to transfer. The transfer is from my PC to the CMC2000. I guess for small stuff that's not bad, but I wouldn't want to be transferring gigabytes of files that way though. I think I'll stick to a wired connection myself, but if you don't have one available then wireless is handy.
I think I've about covered everything here about the CiragoTV CMC2000, so that's it…
Conclusion:
The CiragoTV Platinum CMC2000 network Media Player is a decent product really. You've got plenty of options these days when it comes to a product like this and it's hard for a company to set themselves apart. Once of the ways that Cirago has done that is the  cables that they included with the CMC2000, every cable you'll need is included meaning you won't have to buy any at all, it's pretty much ready to go out of the box, just add media. It's small things like this that really do mean a lot and will make you appreciate the product that much more.
The CMC2000 though is not without its faults, the USB ports on the back are a design flaw that can't really be forgiven. The idea of this product is to make your media easy accessible but making us reach around to find the USB ports is just not easy or fun at all.
Yes it's a NAS box and that's plus really, but the wireless connection is a bit slow. I don't have an 802.11N router just yet as I don't really transfer stuff wirelessly, I only use it for my netbook to browse the web and check email so I don't need very fast speeds, but the CMC2000 could be made better with the addition of 802.11N speeds, I think it would be much appreciated by the consumers.
Honestly though I do like this product, one of the things I really like is the aesthetics of it, it's very minimalist, it's black and non-descript, it should fit in with any home theater setup.
Pros:
+Looks nice and is well made
+Pretty much every type A/V Connection is Available
+Comes with all cables etc to get up and running
+Wired or wireless network transfers (with optional wireless dongle)
+Fairly easy setup and usage
Cons:
-Slow navigation through files
-Not exactly NAS ready, must add files to drive
-USB ports on back of box, none on front
-Wireless transfer speeds are rather slow
| | |
| --- | --- |
| Grades: | |
| Overall | |
| Design | |
| Performance | |
This product was given to technogog for review by the company for review purposes only, and is not considered by us as payment for the review, we do not, and never will, accept payment from companies to review their products. To learn more about our review policy please visit this page HERE.