Keeping your computer cool is essential. A CPU that gets too hot can shut down the machine, or worse, lead to permanently damaged hardware. With that being the case, a well-functioning CPU cooler is a crucial component to keeping your system running smoothly.
It seems like the choices out there when it comes to cooling products are nearly endless. When I received today's review item, a Dynatron G950 Genius cooler, I didn't intend to leave it in my machine. My first impressions were that it was huge, a little overbearing, and I was happy enough with my Alpine 64 Pro cooler that was installed in this particular tower.
Then I installed the sucker, booted up my computer and changed my mind. This thing really does the trick.
The G950 Genius comes in a standard looking CPU box. Nothing terribly fancy, just a few shots of the item and the normal spattering of specs and technical info. Inside, it is caged between two pieces of plastic on either side with the part bag tucked underneath. The part bag has screws, thermal paste, and mounting equipment for every type of socket that this cooler supports. The instruction manual just floats around the case.
For me, cooling is a particularly big deal. I've had far too many computers in my life that would shut themselves down while I was in the middle of doing something because of overheating. My "office," which is really the corner of a living room, is a giant desk. The computer tower sits underneath, and there are all sorts of hardware things and heat-generating stuff all around. The nearest A/C unit is in the next room, so the ambient room temperature is never as controlled as it should be. It's not the greatest computer environment, and as such, I require not only a well-ventilated case, but a powerful CPU cooler.
As I said, my initial impressions of the G950 Genius were skeptical. It is on the larger side, measuring 124 x 148 x120mm , and bigger doesn't always mean better. It is covered with aluminum wave-fins and has four U-shaped heatpipes with a center mounted 120mm fan. The cooler is powered by a standard PWM cable. It's also not nearly as heavy as it looks like it should be – that's the joy of aluminum, folks.
The fan is supposed to be an energy saver and save up to 30% power, and its process blows cool air through the heatsink's fins. It is also a quiet fan, operating at 19 dBA at normal speed.
The base of the cooler sits directly on the CPU for maximum contact and heat dissipation. It is a very smooth finish. There is no pre-applied thermal paste, but the cooler does come with a small tube to apply to your CPU.
Specifications:
Dynatron G950 Genius Desktop CPU Cooler
Universal CPU Cooer compatible with all leading desktop processor platforms, including Intel Core i7 LGA 1366 , Intel LGA 775 and AMD socket AM2, AM2+ and AM3
-Intelligent H.C.C. (Heatpipe Contact CPU) Technology: Heatpipe contacts CPU processor directly and optimizes heat transfer rate
-Smart heatpipes oriented against gravity
-Silent and powerful PWM Function 120mm fan delivers quiet cooling at a whisper-quiet 20 dBA during normal operation
-Center mounted 120mm fan which blows cool air through the fins of the modularized heat sink enabling ultimate dual-directional cooling of the heat created by the CPU
-Innovative Energy-saving fan saves up to 30% power
-Superior heat dissipation CPU power 130W to over-clocking 150W
-Push-pin design for easy-standard installation
-State-of-art aluminum high-density wave-fin design maintains excellent air-flow management
-Heat sink engineered to maximize dissipation surface
-Excellent 25% Enhanced Cooling than Intel® Stock CPU Fan
CPU Socket Intel® Socket LGA 1156, LGA 1366, LGA 775
AMD® Socket AM3, AM2+, AM2
CPU Support Intel® Core i5, Core i7, Core 2 Extreme, Core 2 Quad, Core 2 Duo, Pentium D, Pentium 4, Celeron D, Celeron
AMD® Phenom II X4, Phenom, Athlon 64 FX, Athlon 64 X2, Athlon 64, Sempron
Overall Dimension 124 x 148 x120mm
Weight 795 g
Material Aluminum Fin with 4 x Ø 6mm Heatpipes in HTC structure
Fan Dimension 120 x 120 x 25mm
I installed this cooler onto a GIGABYTE GA-MA785GM Micro ATX, and this is all within a Xclio Blackhawk case.
Installation required me to remove the motherboard mounting bracket I was using for the Alpine 64 Pro and attach mounting brackets to the cooler that would be used instead. This required the use of a screwdriver to attach the mounts.
Once the motherboard mounting bracket was out, installation was a simple case of screwing in the cooler's four thumb screws into the holes on the board. No screwdriver is needed at this point (why can't they all be tool-free screws?)
The side comes pretty close to the RAM, but on this board, just about all coolers do. Shouldn't be an issue. There are no other clearance issues posed by this cooler, which means despite its size, its more tall than it is bulky and doesn't bother your other equipment.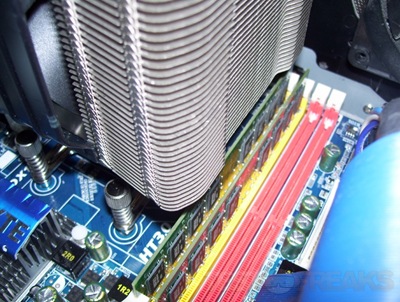 So I bet you're wondering how it cooled, aren't you? That's why we're all here, right? To get right to it, tt wasn't a few minutes after I turned back on the machine that I realized this cooler would be staying inside. Here's some figures:
Idle Temperature:
Stock cooler – 31-32C
Alpine 64 Pro – 30-32
G950 Genius – 22-23C
Load Temperature (Using Prime95 stress text for maximum heat output):
Stock cooler – 46-48C
Alpine 64 Pro – 43-44C
G950 Genius – 33-35C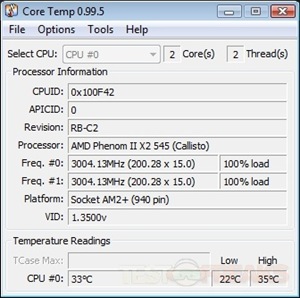 I was blown away by these temperatures. This cooler keeps my CPU at nearly the same temperature during 100% load as the previous cooler does at idle. It also does this with less noise, as the fan is very quiet. The thermal compound provided with the product seems to be doing a great job.
Orthos Stress Prime yielded the same results.
I even let Prime95 run overnight running heavy heat tests and the CPU temp never crossed the 35C mark. Wonderful, I tell you, just wonderful. Apparently the very direct connection between heatpipes and CPU really do work well for this cooler, and its construction vents the heat away in an extremely efficient manner. I very rarely ever see a computer operate at such low temperatures, especially in my home where temps are usually a few degrees higher than they should be.
Conclusion:
It may be big, but it's big in a way that isn't cumbersome or obtrusive on the other pieces of hardware in your case. The simple fact is that the Dynatron G950 Genius CPU Cooler does a really solid job of keeping the CPU cool.
Dynatron isn't the widest known brand in the world, but they certainly make a solid product here. For the fact the product sells for around $40 or less, it does a wonderful job of cooling the CPU. I'm very impressed.
Pros:
+Cools great
+Quiet operation
+Large but easy to install
+Well made
+Lots of parts to fit any situation
Cons:
-None
| | |
| --- | --- |
| Grades: | |
| Overall | |
| Design | |
| Performance | |