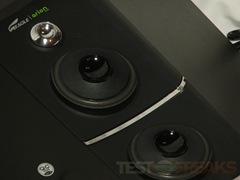 We live in a sensory based society, and sound is one of the most prevalent of those senses, we love our music and movies, but having them sound bad just ruins the experience. Though there are people out there who don't care what something sounds like, I find it amazing that people are happy listening to music with a cheap set of earbuds, or a movie with the built-in speakers on their TV. You don't have to spend a bundle though on decent sound, there are budget priced speakers that sound decent, especially for your PC.
Today for review I've got a budget prices set of very nice quality speakers, the Eagle Arion 2.1 Soundstage Speakers with sub-woofer. These speakers are well worth the cost, coming in at around $50, they feature a tweeter and dual mid-range speakers in each satellite, and a separate sub-woofer with LCD display on it with everything being able to be controlled with the included remote.

First up I've got the unboxing video for you, check that out and then continue on for some still pictures:
Specifications:
Eagle Arion ET-AR504LR-BK 2.1 Soundstage Speakers with Subwoofer
Quality matters! These speakers have been tweaked to maintain overall efficiency and fidelity at significantly higher sound pressures than conventional speakers. Stiff and light cone materials, precision shaped wooden enclosure and raised crossover points of the midrange and tweeter assemblies, make these speakers very efficient at vibrating air – without added distortions. The result? You get seamless overall imaging and soundstage of the music that is nothing short of clear and natural – even at high decibels.
FEATURES:
-Exceptional tonal fidelity and low harmonic distortion
-Dedicated subwoofer, midrange and tweeter drivers for high decibel output
-LCD with digital equalizers
-Raised crossover points of midrange and tweeters
-Stiff and light cone materials for precise vibrations
-Smooth response over broad frequency so you hear the music at exactly the same way it was recorded
-Solid wood enclosures accurately amplifies overall sound level
-Great for MP3 player, CD, PC, video gaming system, home audio system or just about any other audio sources
-Full function remote control
-Multiple audio inputs
SPECIFICATION:
-Total RMS Power: 35 Watts
–Satellites: 10 Watts RMS x 2 (into 4 ohms, @<=1% THD)
–Subwoofer: 15 Watts RMS x 2 (into 4 ohms, @<=1% THD)
-Total Peak Power: 70 Watts
-Frequency Response: 20Hz to 20kHz
Drivers:
-Satellites: Dual 3-inch midrange and 1-inch tweeter with solid wood enclosure
-Subwoofer: 5.25"-inch driver with solid wood enclosure
Speaker Dimension:
-Satellites: 4.33" x 9.65" x 4.77"
-Subwoofer: 6.7" x 11.03" x 10.25"
PACKAGE CONTENT
-ET-AR504LR-BK speaker system
-Remote control with battery
-User manual
-3.5mm to RCA audio cable
Price: $49.99 at NewEgg at time of review

Installation is simple, though I found that the cables are a bit short, I had to use extensions to use these speakers with my setup. I've got three monitors, two 20″and a 22″ and I keep the sub-woofer under my desk, I found the wires just weren't quite long enough to get the system installed correctly.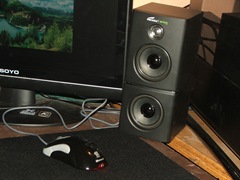 The sub-woofer does have an LCD on it that is fairly bright and animated when sounds are being played.
The remote seems to have a nice long range to it, though I much would have rather preferred a volume control on one of the satellite speakers instead of having to use the remote or the volume interface of windows.
The satellites are also quite large, standing more than half as high as one of my 20″ LCD monitors. Those that have limited desk space might want to make sure these will fit, as they are wide as well.
The sound from them is good once you get it adjusted the way you like it. The highs are high and the lows are very low, even with the volume low you can still feel the bass. To me though it sounds as if something is missing, even playing with bass and treble, it seems I just can't them to sound the way I want or expect, they're not bad, but just not quite what I want from my music… for movies or games though they're fine really
These speakers can get very loud as well, and don't get very distorted are high volumes either.
I used these speakers with my PC, but of course they don't have to be used that way, they can be for a home theater system, or you can just hook up your portable media player to them as well.
I checked the price for these, and they're going for about $50, which is well worth the price, I don't think you'll find any speakers in this price range that will sound better than these.
These speakers are nicely made, the majority of time you'll find when you buy a set of speakers, even those that cost, two to three times more than these, they're made of plastic, these though are made of wood. Wooden cased speakers offer a different sound than plastic ones, the sound is more natural, and just nicer overall.
Conclusion:
The Eagle Arion 2.1 Soundstage speakers are a great sounding budget priced set of speakers, even if you're on a budget you can have a decent set of well made and good sounding, feature rich, speakers.
Taking into account the sound quality, the build quality and the price, I can easily recommend this product to most anyone looking for a budget priced sound system.
Pros:
+Very well made
+Excellent sound
+Low price
Cons:
-Large satellite speakers
-Wires are a bit short
-No volume control on satellites
| | |
| --- | --- |
| Grades: | |
| Overall | |
| Design | |
| Performance | |