Manufacturer: HeadPlay
Product Name: Headplay Personal Cinema System
Review Date: 09/26/08
Author: Kristofer Brozio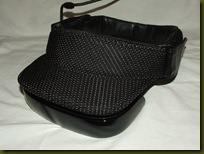 These personal media systems that you wear on your head seem to becoming popular lately, at first I thought they were more gimmick than anything., and for the most part when they first came out they were just a gimmicky thing. With technology evolving though these products have become much more than a passing fancy, they're actually pretty cool, and work well.
Not long ago I took a look at the Vuzix personal media system, and I found it to be decent but lacking a bit in some areas, today for review though I've got the HeadPlay Personal Cinema System and it picks up where the Vuzix leaves off in a couple areas. In my time with the HeadPlay I've found it is a much better system all around with some great added features as well.
So continue on to learn more about the HeadPlay Personal Cinema System…
As with other reviews we're doing, first up is the video unboxing for you, check out the video to see everything that comes with the HeadPlay and to learn more about it, then continue on to read the rest of the review and check out the image gallery I have for you as well.
Specifications:
Headplay Personal Cinema System
Headplay is evolving the way people experience 2D and 3D entertainment by significantly improving how digital media is distributed and viewed.
The Headplay Personal Cinema System is the future of personal displays. Utilizing a revolutionary ergonomic design and proprietary optical technology break-throughs, via a single LCOS display, the Personal Cinema System delivers an immersive big screen viewing experience you can get lost in for hours.
Simply Plug n Play With:
* XBOX 360 / XBOX  – via VGA or Composite (RCA)
* PS3 / PS2 – via Composite (RCA)
* Wii / Game Cube – via VGA or Composite (RCA)
* PC / Mac  – via VGA
* DVD players  – via S-Video or Composite (RCA)
* Sattelite / Cable Box  – via Composite or S-Video
* iPod  – via USB or Composite (RCA)
Visor and Navigator:
* User Controls: On-screen cursor up, down, left and right; on-screen cursor function select; volume up; volume down; control lock
* On-Screen Display: Program selections; Audio Settings (volume, mode); Video Settings (brightness, contrast, saturation, hue, mode)
* Focus adjustment sliders: +3 to -6 diopter
* IPD adjustment sliders 53 to 75 mm
* Eye Relief: 1.5 mm
* Exit Pupil: 6.2 mm
Liberator:
* VGA input
* Composite video and audio inputs
* USB 2.0 Host interface: 2
* USB 2.0 Client interface: 1
* Compact Flash card reader
* S-Video input
* AC power connection
* AV plug-in
* Video processing engine
* Lithium polymer battery (optional)
Price: $499.99
Ok, so to use the HeadPlay of course you've got to put it on your head, and since it's basically a hat or visor that's pretty easy to do. The sides have adjustable velcro strap, and there are inserts that can go into the front section to insure a proper fit.
The actual video unit part of the HeadPlay can move up and down as well to fit to your eye level correctly so you don't have to move the entire visor up and down.
There's a very nice feature of the HeadPlay unit that I feel adds quite a bit of value to it overall, even if you were glasses or contacts you don't need to wear them with the HeadPlay. Personally I wear contacts from the time I get up around 6am, until about 9pm, then I put my glasses on to give my eyes a rest. the HeadPlay unit has sliders on the bottom of it that allow you to actually adjust it to your own specific prescription so you don't have to worry about glasses or contacts at all. I think this is a really cool feature as it allows for quite a bit of freedom from your glasses or contacts. It took me about two minutes to adjust it to both eyes and it was perfectly clear to me. the process involves closing one eye, adjusting the sliders on the open eye, then repeating the same thing with the opposite eye, it's really easy actually. HeadPlay gets big points for this great feature really!
The Vuzix set I reviewed had the headphones attached, with the option to use an external pair as well, I didn't like the attached headphones of the Vuzix at all. The HeadPlay comes with earbuds, which are my favorite type of headset, they're not attached to the unit, they connect to the remote and they sound pretty good, they're comfortable, and they feel well made. I did though find that the included headphones cord is a bit too short, not when you have it hooked to the remote, but for PC gaming only because you've got to use the audio directly from your PC, luckily I had a set of audio headset extension cables which helped this problem out for me.
Connectivity with the HeadPlay is pretty much unlimited, you can hook most any device up to it that has a video output. I used it with my Playstation2, Mvix media center box and my PC to play some games, all were easy to hook up with no problems. You just need to go into the onscreen menu in the HeadPlay and select the video input and you're ready to go. Hooking to the PC though required me to unhook on of my LCD monitors to use it's VGA cable. it would have been nice if HeadPlay included a VGA cable, considering most video cards today have more than one output on them, and not all monitors have a detachable VGA cable either.
The only real complaint I could have is the maximum resolution is 1024×768, which is pretty low for PC gaming and most other gaming as well, for movies it's fine unless of course you've got hi-def, but then it will still look good.
You can also use the HeadPlay as your secondary monitor or even main monitor actually, to browse the internet with total privacy to view those sites that you might not want others to see………..
Despite the low resolution, gaming on the HeadPlay unit is rather fun, it really is like playing on a large screen, first person gaming is pretty cool this way of course. I did notice that you really have to stare at the center of the screen or you get blank spots in your field of view, this was more for just general use of the computer, like if I would look down to click the start button, things would seem to get dark, it's hard to describe in words really what it's like. It doesn't effect gameplay as much since you're really staring at the center of the screen most of the time, especially in FPS type games where there is a crosshairs, your main focus is that.
Like the Vuzix my kids like the Headplay a lot though it was a bit harder to use for them as with the Vuzix you can just put it on, the HeadPlay though needs to be focused for their eyes, and I couldn't do that for them. Then again the HeadPlay isn't for children really, so it's not much of a concern.
Watching movies is cool with the HeadPlay unit, it's very comfortable for long periods of time so wearing it for an entire movie is feasible. It stays in place very well when you move your head so you won't have to worry about it falling off. The picture is clear, and the HeadPlay does have several settings that can be changed to your personal preferences like brightness, contrast, saturation and hue.
The Vuzix unit I reviewed doesn't come with anything to keep out the light, but they offer it separately and they included one with my review unit. Without the shield on the Vuzix, lots of light got in, with the HeadPlay though you don't need an extra accessory like the light shield that the Vuzix does. Even in a bright room I didn't notice light coming in from the sides, at least it wasn't a bother and didn't disrupt my viewing.
On a side note, I was browsing the HeadPlay site and I found that they sell remote mini video camera kits to use with the HeadPlay to attach to remote control airplanes. You use it to fly the planes from a first person point of view, how cool would that be? I may have to invest some more money in my side RC Hobby, I prefer helicopters, but I may just have to get an airplane just for this! Of course though for this kind of setup you'd need the optional battery pack for the HeadPlay unit to make it more portable, but I think it would be lots of fun and well worth it.
Images
And we've got a special offer for technogog Readers:
Receive a free battery with the purchase of HEADPLAY's Personal Cinema System. Buy Now!
Conclusion:
The HeadPlay is a great unit really, if you're in the market for something like this product then I can honestly recommend you get this one. Especially if you wear glasses or contacts, you'll really appreciate the ability to focus it for your eyes.
The HeadPlay works well, and is comfortable for long periods of time so you can easily sit down and watch a whole movie with this product in privacy.
Yes it's low resolution, but really after you're playing you don't even notice as the HeadPlay really gets you absorbed into the game, especially with the FPS types, it's almost like virtual reality in a way.
Pros:
-Easy to use
-Well made
-Works with any eye prescription (no need to wear glasses)
-Nice clear picture
-Good sound from included headphones
-Comfortable for long periods
Cons:
-Low resolution for gaming
-Headphone cord is a bit short
Grades:
Overall:
Design:
Performance: