Manufacturer: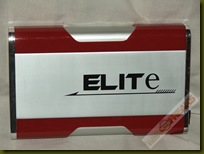 We all seem to have a need to take our stuff with us, be it music, photos, movies or data. USB Thumbdrives are great for that, but at this point in time, even though they're getting bigger, there are still times when we need more storage space to take those things with us. Portable hard drive enclosures are a great way to take large amounts of data with us, you can purchase these as a complete set with the HDD already inside or you can just buy an enclosure and supply your own hard drive.
Today for review I've got the Elite 3.5" SATA to USB/eSATA Hard Drive Enclosure from Kingwin. As the title suggests it's an enclosure for a 3.5" SATA hard drive that will allow you to use either a USB or an SATA interface to access your data. The Elite also includes a one-touch backup button as well for quick and easy backups of your important data. From my time with the Elite, I've found it very aesthetically pleasing, well made and easy to use.
If you're looking for an HDD Enclosure then read on to learn more about the Kingwin Elite.
The Kingwin Elite HDD Enclosure comes packaged in a box that shows off the enclosure though a large window on the front. The back of the box lists all the specs and features as well.
Included with the enclosure is a user manual, software/driver cd, power supply, USB cable, eSATA cable and a clear plastic stand.
The Elite enclosure itself seems well made, it feels solidly built and rugged like it will last quite a while and offer good protection for the hard drive that's inside. I'm impressed by the build quality and overall I really like the looks of it as well. As you can see I've got the version with red accents, Kingwin also has the Elite available in blue or black. The main body is aluminum, with the colored accents done in plastic and the front and back sections also plastic.
On the back of the enclosure is where you'll find the connections for USB, eSATA, and power, also on the back is the one-touch backup button.
The included stand is nice, even though it's plastic it seems well made, it's a flexible type of plastic, not rigid, so it shouldn't break too easily.
Specifications:
Kingwin Elite 3.5" SATA to USB/eSATA Hard Drive Enclosure
Features:
1.     Model: EL-35EU-SR
2.     3.5" E-SATA + USB + One touch back up combo aluminum H.D.D. Enclosure
3.     Futuristic capsule design w/ front blue led
4.     SATA Interface
5.     Applicable for PC, notebook, and Mac
6.     Plug & Play, hot-swapping capability
7.     Up to 3.0 Gbps Data Transfer Speed in ESATA
8.     Up to 480 Mbps Data Transfer Speed in USB
9.     Suitable for all 3.5" SATA H.D.D
10.     1 stand
11.     Strengthen aluminum finish
12     12v power adapter
Specs:
Interface:  E-SATA + USB 2.0 Combo
Data speed: USB 2.0: 1.5/12/480 Mbps./ SATA: 1.5/3 Gb/s
Color:     Silver w/ Black
Rear panel connection:     USB B receptacle/E-SATA connector
Dimension: 205 (L) x 130 (W) x 35 (H) mm
Support OS : Windows 98SE/ME/2000/XP/Vista; Mac OS 10x & Above
One touch backup: Yes
Hard Drive Support: 3.5" SATA Hard Disc.
Weight: 2.5 lbs (1134 g) / unit
The Kingwin Elite is a bit larger than a 3.5" hard drive, but this size offers protection and allows for better heat dissipation.
To install your hard drive in the elite, you need to remove two screws from the back panel, and slide the hard drive tray out. Inside you'll also find the connection for the front LED indicator that gets attached to the HDD caddy once you've installed the hard drive.
The Kingwin logo on the front of the enclosure lights up blue when powered on, other than that there are no other lights or indicators.
With the Kingwin Elite I used a 200gig Seagate SATA drive, I ran tests on the drive with it installed inside of my computer and then inside of the Elite using both the USB and eSATA connections to give you an idea of the performance.
The first set of tests I ran was using HDTach RW.
The Burst Speed and Average Read Test results are higher scores are better, while the Random Access test is lower scores are better.
(you can click the graph to see a larger version)
As expected the Burst Speed is no where near that of a standard SATA connection inside of your computer, but the Average Read and Random Access speeds are very similar.
For the next test I ran SiSoft Sandra 2009 Removable Storage Benchmark, yes you can run it on a drive that is inside of your computer as well.
(as before you can click both graphs below to see a larger version)
The following graph shows the Overall Scores for all three connections, or the Device Index which gives us a good idea of the Operations Per Minute of the drive in each situation.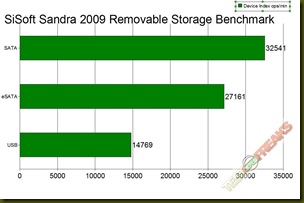 The next graphs is a closer look at the results, SiSoft Sandra runs several tests using different file sizes. Here you'll see comparison results for Read and Write performance for the 256MB test using the three connections.
Read Performance: expressed both in terms of Operations per Minute (i.e. the number of files read per minute) and the corresponding net transfer rate in kB/second.
Write Performance: similarly expressed both in terms of Operations per Minute (i.e. the number of files written in a minute) and the corresponding net transfer rate in Kbytes/second.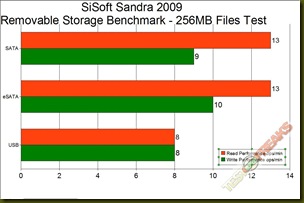 As you can see the performance for SATA and eSATA are very close, with of course USB coming in the slowest, but that's no surprise at all
I did notice that the enclosure does get warm to the touch but not overly so, and the Elite does a good job of dampening the noise of the enclosed hard drive, I couldn't hear the drive unless I was very close to the enclosure, within a couple inches.
I did run into one small problem though, I couldn't use the included software to utilize the One-Touch Backup system. I've moved over to using Vista as my main OS, and when I tried to install it it immediately gave me an error that it is not compatible with Vista.
To me personally that's not a big deal, I do all of my backups manually, yes it takes time but that's what I've been doing for years, and that's what I'm accustomed to doing.

Conclusion:
The Kingwin Elite is one of the nicest enclosures I've had the chance to review honestly.
It feels well made so it should protect the enclosed drive well, it looks great and it performs very well.
If you're looking for a nice enclosure then be sure to give the Kinwin Elite series of HDD enclosures a second look.
Yes the software isn't compatible with Vista, but to most it might not matter, and I'm sure Kingwin will come out with a newer version soon.. hopefully!
Pros:
-Fast
-Easy installation
-Appears well made
-Quiet
Cons:
-Software not Vista Compatible
I would like to thank

Performance: