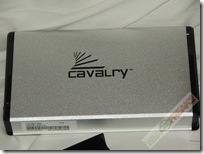 We all need more storage, in the form of a hard drive, personally I don't like having them always running inside of my computer so I have several external enclosures for my storage, they're used for backups mainly, so they don't always have to be running and I feel it reduces wear and tear on them as well.
Geeks.com has sent me over the Cavalry 500GB Aluminum External Hard Drive Enclosure for review, and it's not only fairly inexpensive but well made, fast and it's aesthetically pleasing as well.
First up we've got the unboxing video for you, check it out and continue on:
Specifications:
Cavalry 500 GB 3.5-inch USB 2.0 Aluminum Ext Hard Drive Storage
Mobile Storage Solution!
The Cavalry CAUM37500 features a pre-installed 500 GB SATA hard drive with a 7200 RPM spindle speed and an 8 MB buffer and a USB 2.0 interface for quick and reliable 480 Mbps data transfers! Its One Touch Back Up (OTB) function provides the user to backup data with a touch of a button!
This Cavalry CAUM37500 is protected by a solid aluminum body that offers superior heat dissipation to keep the hard drive operating at a safe and cool temperature!
Features/Specifications:
General Features:
* Pre-installed 500 GB SATA hard drive
* Silver aluminum external case with luminous front panel
* One touch backup via software CD
* USB 2.0 interface
* Up to 480 Mbps data transfer rate
* 8 MB buffer
* 7200 RPM spindle speed
* NTFS Formatted for PC
* Can be mounted vertically with stand
* Plug and Play
* Unit Dimensions:
* 5 x 8 x 1.75-inches (H x W x D with stand, approximate)
Price: $89.99
Geeks.com has many other External Hard Drives available as well, so stop over and and check them out when you the chance!
The included backup software with the Cavalry is basic,  making it easy to use, which is a good thing for most people. You do have the choice of Copy or Synchronize as well which is a nice added feature so you only copy what has changed and not everything for much quicker backups.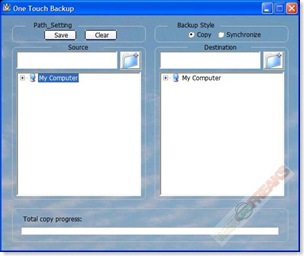 Using the Cavalry is easy, since the hard drive is already installed in it you just have to plug it in, and it's automatically recognized and installed by Windows.
The enclosure itself seems very well made, and since it's made of aluminum it should help to keep the drive cool as well. The outside of the enclosure does get warm to the touch, but not overly so. It comes with a plastic stand so you can mount the drive vertically, and it has four small feet so you can place it horizontally well.
Since I recently reviewed the Kingwin Elite enclosure I figured I would compare them to one another, and also a standard SATA connection as well. The Cavalry comes with a 500gig SATA drive, I've compared it to a 200gig SATA, the same 200gig drive was in the Kingwin Enclosure.  Of course I used SiSoft Sandra 2009 for testing.
Since this is a removable storage that's the test that I ran, I've got two graphs for you, the overall combined score and a closer look at the 256Mb Files Test.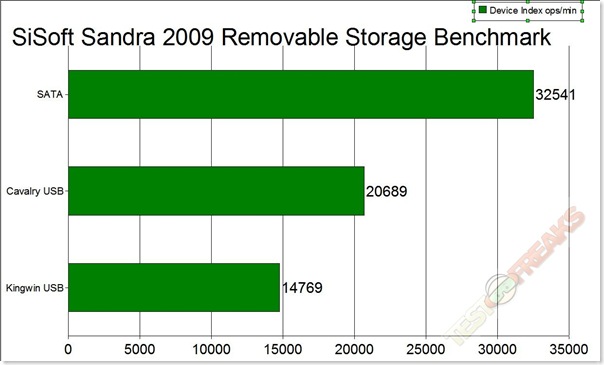 As we can see the Cavalry performs better than the Kingwin Enclosure did, and as expected slower than a direct SATA connection, so there's no surprise there.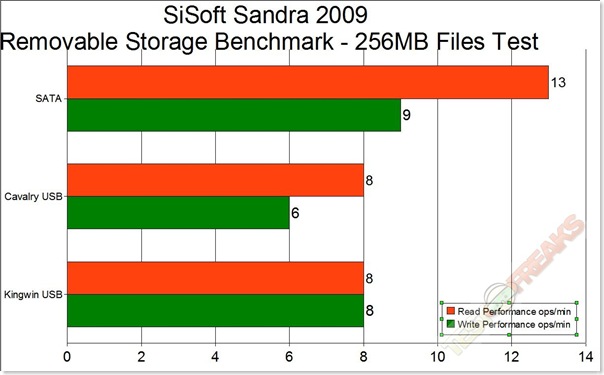 Looking at the 256MB Files Test though we can see that actually the Kingwin Enclosure performs a bit better, but the overall test concludes the Cavalry is the better choice.
Images
Conclusion:
A lot of hard drive enclosures you get today are just empty shells, and many of these shells can cost almost as much as the Cavalry from Geeks that includes a 500Gig hard drive, so it's a great value overall if you consider this fact into the picture.
Yes you can buy portable enclosures with hard drives already in them, but from what I've seen they usually cost a bit more than this one does, especially if you get them branded by the HDD manufacturers.
The Cavalry from Geeks.com is a great choice if you're looking to add quite a bit of storage space to your system that comes in a quality aluminum enclosure that you can take with you if need be.
Pros:
Well made
Includes hard drive
Easy to use, both software and the enclosure itself
Relatively fast compared to other enclosures/drive
Cons:
None really
Grades:
Overall:
Design:
Performance: