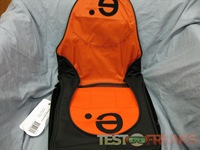 Today's review item du jour is a messenger style laptop bag designed to fit the MacBook line of computers or any 13" laptop. Be.ez is company based in Europe with a focus on fashionable computer accessories including laptop bags and sleeves. While the majority of their product line is sold in Europe they have released several of their products in the States. The LE vertigo is one of these laptop bags.
With the LE vertigo, Be.ez has designed a well-constructed bag that protects the MacBook while keeping things compact. Reinforced padding defends the stored laptop from external bumps, while a waterproof nylon material keeps the contents of the bag dry. Be.ez also adds several compartments for carrying documents and other accessories.
The LE vertigo comes in a clear plastic bag with a cardboard sleeve describing the features of the bag in several languages. For this review I received the Black Pumpkin version of the messenger bag. For the US market Be.ez sells another version – the Lime Art (lime green and grey), while the European versions of the LE vertigo comes in a multitude of colors. Hopefully Be.ez will release more of these color options for States.
While most bags rest the laptop horizontally, the LE vertigo aligns in a horizontal axis creating a slimmer profile for the bag. It measures 3.42 x 35.7 x 25.9 cm and is composed of a black nylon external shell with more nylon along with padded clothe material found on the inside of the bag. The exterior is designed to be waterproof.
On the top of the bag is an adjustable non-padded strap for carrying the LE vertigo either across or over ones shoulders. The inner portion of the bag is colored a bright orange or pumpkin to be more specific. The LE vertigo opens and seals via a Velcro closure in the shape of the 'e' from the Be.ez logo.
Be.ez placed several compartments inside the LE vertigo for storing the laptop as well as other accessories. The compartment for the laptop is a padded sleeve with a Velcro strap emblazed with the Be.ez logo to secure it in place. In front of this sleeve is a mesh pocket with zippered compartment on the opposite side. Finally we see three smaller pouches with another zippered pocket in front of this area.
Specifications:
A refined classic for your MacBook 13″
-Vertical to your body all the time
-Reinforced laptop protection
-Functional compartments and pockets for accessories and documents
-Even slimmer and more compact design
Featuring a cross-shoulder carrying style, Be.ez LE vertigo fitly clings to your body while maintaining its vertical status throughout your journey. With this unique vertical design, you can carry your notebook and favorite accessories on the go without being weighed down.
Tough enough? Definitely! Designed with padded computer sleeve inside and high quality waterproof nylon layer outside, it was made to protect your notebook. This strong but slim-looking case can accommodate notebooks with sizes up to 13″. Coming with functional accessory compartments and document pockets, you can neatly organize your essentials without making a mess.
Stylish? Absolutely! Trendy vertical design, tough look.
-34.2 x 357 x 259 mm
-Fits notebooks with sizes up to 13″
–MacBook 13.3″ & 10.2 Netbooks
On first glance, it is easy to see that the LE vertigo is a very slim laptop messenger bag. The Macbook easily slips into the protective compartment and is securely held in position with the Velcro closure. The bag can accommodate the Apple AC adapter and a few other smaller accessories, but not much more; that is the price to be paid for a slim designed bag such as the LE vertigo.
The bag is solidly constructed and seems like it will do well with everyday usage. The strap is adjustable to fit most body types. A padded strap would be preferable for times when the LE vertigo is worn for extended periods. The Velcro seals the bag securely and it does repel water.
The color scheme is rather pedestrian, as the pumpkin coloring is only seen when the LE vertigo is open. Otherwise it looks like a plain black laptop bag. For a company with a focus on style, the LE vertigo could use a little more flair.
Conclusion:
The LE vertigo is a well-constructed laptop bag designed to fit 13" laptops such as the MacBook. It is designed to be slim and low profile. The vertical positioning of the laptop in the LE vertigo makes it more streamlined than other laptop bags. The drawback to this slimness is the ability to carry additional cargo. Once a power supply is packed up there is not much more room for additional travel accessories such as additional mice or external hard drives.
The color scheme is a little bland especially with the colorful portion hidden under the flap. As long as you are aware of these issues, you should not be disappointed with this 13" laptop case from Be.ez.
Pros:
+Slim design
+Low profile
+Vertical orientation of laptop
+Well padded laptop sleeve
+Water proof
+Well constructed
Cons:
-Not much room for additional accessories
C-Colors could be more diverse
| | |
| --- | --- |
| Grades: | |
| Overall | |
| Design | |
| Performance | |
This product was given to technogog for review by the company for review purposes only, and is not considered by us as payment for the review, we do not, and never will, accept payment from companies to review their products. To learn more about our review policy please visit this page HERE.