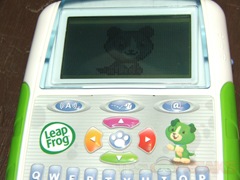 I've taken a look at a lot of products in my time reviewing, and most reviews I can handle myself, but for this review I had to bring in some 'professional' help… my 3yr old son!
LeapFrog is well known for their educational toys, they're well made and they're lots of fun. Today for review I've got one that I found to be very nice, it's called the Text & Learn. the idea behind the Text & Learn is that it resembles a PDA, it kind of looks like a large BlackBerry, so you can give it to your child to play with instead of your actual PDA.
I'm a parent and I know that kids love gadgets, especially cellphones, my 3yr old asks me quite often to play with my AT&T Tilt, and I basically have to tell him no, because it's not a toy, but now though, with the LeapFrog Text & Learn he has his own..

The LeapFrog Text & Learn comes in a nice colorful box as you would expect for a child's toy.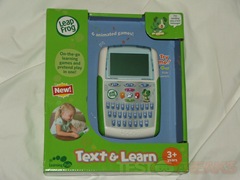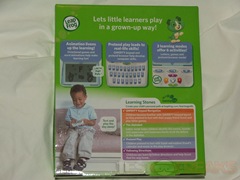 There's a brief instruction manual included with it. As I mentioned, it looks like a large BlackBerry, complete with QWERTY keyboard and navigation buttons. On the back is a speaker where the sound comes out of course, and on the side is a power and volume button that allows for two levels of volume, high and low basically.
Specifications:
Little learners play in a grown-up way with Text and Learn! The pretend browser and play text messages with Scout lead to real-life skills as children explore letters and QWERTY keyboarding in fun on-the-go games.
Ages: 3+ Years Old
Text and Learn is designed to let little learners play in a grown-up way! Children can exchange text messages with their puppy pal Scout, check Scout's planner to see what his week entails and more in the pretend browser mode. Other learning modes offer practice with letter matching, shape identification and QWERTY keyboard navigation through silly animations and sound effects. Children also explore letter names and sounds. Parents can connect to the online LeapFrog Learning Path for customized learning insights and ideas to expand the learning.
Learning Skills:
– QWERTY keyboarding
– The alphabet
– Shapes
– Following directions
Price: $21.99
If you look at the specs up there, you can see the Text & Learn retails for $21.99, and it's well worth it, it's well made and really it is a lot of fun, even for an adult to play with… Of course I had to play with it for a bit before handing it over to my 3 yr old son.
The LeapFrog Text & Learn features Scout the dog, he becomes your child's friend to interact and play with.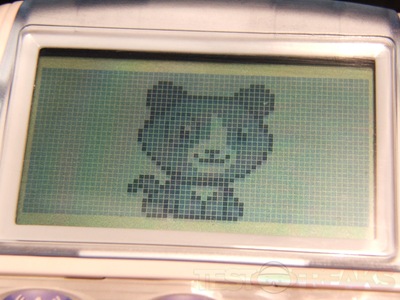 The Text & Learn comes with two games, a bubble popping game where Scout the dog is in the bathtub and letters pop up in bubbles, you have to hit the letter to pop the bubble. The second game is a navigation game, which is my son's favorite, you have to guide Scout to the diamond using the navigation arrows.
There's also two other activities, along with a music mode as well. The music mode is basic, Scout the dog just dances around. The other two modes are email or text messaging and looking at Scout's calendar. For the test messaging, Scout send you a message and then you can send him one, the Calendar is just the days of the week where you get to se what Scout is doing on those days with cute little animations.
There's is one other activity as well, but it just involves the letters, it's basically an alphabet game where you push a letter and it says the letter and sound and then plays an animation to go with it.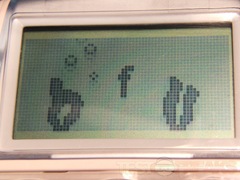 We've had the Text & Learn for about three weeks now, for the first week the Text & Learn went everywhere with my son, he even took it to pre-school to show his friends and teachers, now though he may not take it everywhere with him, but he plays with it at least once a day. Out of all of his toys, this is one that he has not put in his toy box, it still remains on his little activity table so he can play with at any time. I can tell you he likes it very much, but I thought why not let him tell you, so I did a video of him using it and showing me how to use it, so check it out:
He's 3 yrs old and that's his video debut on the internet, he was a bit nervous at first, but I think he did a good job. he likes it very much, but he still doesn't quite know where all the letters are yet, and as he told us his favorite game is the navigation one.
Conclusion:
The LeapFrog Text & Learn is a great product, specially for the price, my son likes it very much, and from a parents perspective it's well worth the money. Now my son has his own PDA and since he got it he hasn't asked me to play with my phone. My son likes it very much and that's what counts, I can easily recommend it to other parents out there.
Pros:
+Inexpensive
+Nice, big screen and keys
+My son loves it
+Well made
Cons:
-None really
Cons2
Cons3
| | |
| --- | --- |
| Grades: | |
| Overall | |
| Design | |
| Performance | |