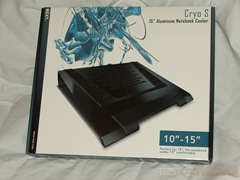 So yesterday I took a look at the NZXT Cryo LX Notebook Cooler, today I've got what you might call it's little brother, the Cryo S. The Cryo LX was made for up to 19" notebooks the Cryo S is made for up to 15" ones. The Cryo S features an aluminum construction, two 120mm cooling fans and two USB ports as well. It also comes with it's own AC power adapter so you don't have to power it with your notebook if you don't want to, this is a nice way to conserve on battery power.

The NZXT Cryo S comes in a nice fancy box with specs and features listed, it's packaged well and comes with USB cable for the hub, USB power cable, user manual and an AC adapter to power the fans as well.
The Cryo S is primarily aluminum in construction making it fairly heavy. The top surface is rubber coated to prevent you laptop from slipping while it's on it.
It features two 120mm fans on the bottom for cooling.
It does site up at an angle to allow for good airflow under it, and of course it brings your laptop up to a more comfortable angle for typing.
On the back we find USB hub, fan speed control knob and a DC power input.
Specifications:
15" Aluminum notebook cooler
Built with thick, brushed aluminum, the Cryo S houses two adjustable 120mm fans that provide powerful cooling to any notebook up to 15 inches. Its rubber finish lifts the notebook up slightly to remove heat pockets and enhance airflow. The Cryo S can be powered via USB or the included AC adaptor and provides two additional USB ports to give users even more options for media, storage and input devices.
Features
* Built with 3mm thick aluminum with sturdy construction
* Cools your notebook with two controllable 120mm fans
* Two USB ports for your input and usb thumb drives
* None slip rubbertized plastic surface keeps notebooks from sliding
* Tilted surface allows for comfortable and relaxed typing
* Support for all types of notebooks from netbooks to 15" notebook coolers
* Ideal for eliminating and reducing heat in performance notebooks
Since the Cryo S is made for smaller notebooks and mine is a 14.1" style, my laptop, a Dell Latitude C640 with P-4M 1.8GHZ CPU, fit perfectly fine on it.
You can use the USB power cable or the included AC adapter to power the Cryo S, the adapter is a nice addition for those that don't want to use up their batteries on the fans.
Ambient room temperature during my testing was 25.7C.
I used Orthos Stress Prime running Small FFTs to get load on the CPU. I recorded temperatures of my CPU while my laptop was on a table, on the Cryo S with no fans running and with the fans running at high speed.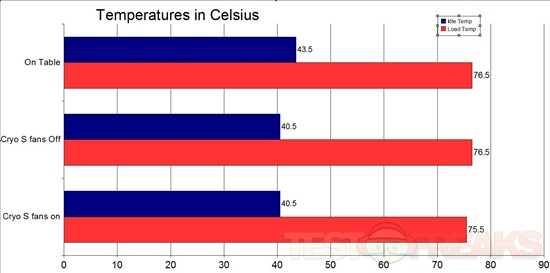 As you can see there is a very slight drop in temperature while using the Cryo S, and really only while idle. Not much at all there, but as i mentioned in the Cryo LX review, it all all depends on your laptop and how it is designed as to what kind of performance you'll get in terms of cooling.
I did notice though that the fans in my laptop did not come on full speed while using the Cryo S with the fans on or off, so it was doing something to keep my laptop cool.
In regards to the fans, they're silent, even while running at full speed you can barely hear them, turning them down to low you cannot hear them at all.
The angle at which the Cryo S put your laptop is comfortable to type on, but I would have liked it to be adjustable
The Cryo S is a well made product though, it's mostly aluminum, and like the Cryo LX, it's not very portable either.
I mentioned in the Cryo LX review that I looked around for other reviews to see what kinds of temperatures they got during their testing, and well I did that this time also, but I couldn't find any posted yet. I have to give the Cryo S the benefit of the doubt though, as testing notebooks coolers is hard really, every different laptop will give a different result. With the Cryo LX I only got about a three degree drop, whereas others that tested it achieved a ten plus degree drop with their laptops. So it all depends on how your laptop was designed, where the fans are, where the ventilation is located.
Conclusion:
The Cryo S notebook cooler is well made and it provides two silent 120mm fans to keep your laptop running cool. It also features the ability to run the fans using power from your computer or using the supplied AC adapter and it's got a built-in USB hub to add more ports to your laptop.
While I didn't achieve a drastic temperature drop, it does do something as I noticed the fans did not come on full speed on my laptop while under load, so it's does do something to help keep your laptop cool.
Pros:
+Silent fans
+Includes USB hub
+Includes AC power adapter
Cons:
-Doesn't cool well, though it depends on the notebook used
-Isn't exactly portable
| | |
| --- | --- |
| Grades: |   |
| Overall | |
| Design | |
| Performance | |