A PC case is just a place where your system is right? Just a housing for the components right? The average person out there is more than happy with a stock case from one of the big manufacturers, most aren't that well made and they're usually very loud. Luckily for those of us that desires a bit more, or even build our own systems there are companies out there that make quality cases, one such company is NZXT. NZXT makes very high quality cases and other accessories for computer users, for those that desire more, NZXT is there for them.
I have a large desk, and I prefer to have my PC on my desk, my setup is monitor, monitor, monitor and then the case, so having it that close to me I want my PC to be as silent as possible, I don't want to hear my computer, but yet it still needs to be cool. Enter NZXT with their Whisper case, true to it's name it is silent with the help of insulating foam to dampen noise and several low RPM fans to help keep things cool. The Whisper though is a large case, and it's very heavy, but it's also very well made with room for nine hard drives and six 5.25" devices. Continue on to see the video tour of the case, along with several pictures as well…

First up I've got the video unboxing and tour of the Whisper for you, then some still pictures as well:
The box for the Whisper is primarily black colored, with not much else on it.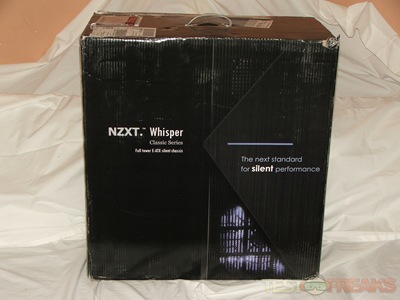 The box matches the case really, it's basically all black in color as well.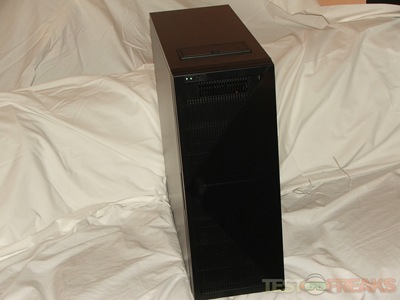 Since we covered the case in the video tour, I'll be brief here.
Here's the outside of the case:
and here's the inside of the case:
and here is a closer look at the included parts:
Specifications:
NZXT WHISPER Classic Series PC Case
Full Steel Silent Tower
Raising the standard of silent computing.
Finally, a chassis that is designed for the enthusiast that combines noise dampening features with expandability and storage. Introducing the Whisper silent full tower chassis from NZXT, improving upon the successful of the NZXT HU-001 chassis, the Whisper is another step up from the Hush. Featured in a large size E-ATX Full Tower, the Whisper can support up to NINE hard drives and a total of SIX 5.25"; bays with ample space for large expansion cards. 10mm dampening foams, rubber grommets, and padded PSU holder are some of the major features in silence. The NZXT Whisper is the complete solution for the enthusiast who is not willing to sacrifice silence for performance.
Specs:
MODEL:Whisper SERIES
CASE TYPE: FULL TOWER Steel
FRONT PANEL MATERIAL: ALUMINUM/PLASTIC
DIMENSIONS: (W x H x D)    211.5 X 521.5 X 562 mm
COOLING SYSTEM:
FRONT, 1 X 120mm Blue LED (included)
REAR, 1 X 120mm, 2 x 80mm fans (included)
DRIVE BAYS:
6 DRIVE BAYS
6 EXTERNAL 5.25" DRIVE BAYS
1 3.5" External bracket
9 INTERNAL 3.5" DRIVE BAYS
Screwless Rail Design
MATERIAL: Steel Construction
EXPANSION SLOTS: 7
WEIGHT:    12.3 KGS (W/O Power)
MOTHERBOARD SUPPORT: E-ATX ATX, MICRO-ATX, BABY AT

To break the all black look up a bit NZXT added a blue LED fan in the front of the case along with a bluish purple lighting accent on the front door.
There's a lot of room inside the case, not only for hard drives but for your system, I had no problem getting my system in there. There are places to route cables through to make wiring a bit neater and easier, since this is my test setup system I didn't take the time to make it all look pretty.
The only major difference in the installation of a system in the Whisper is the addition of the rubber vibration dampener on the power supply, but that just slips right on so it's not a big deal.
The Whisper is true to it's name, it's very quiet, and it does keep the system inside cool as well. All of the fan inside are quiet, I was a bit surprised by the small fans on the bottom of the case though, not something I've ever seen before.
The Whisper is very well made, in fact I could almost say too well made, the case is one of the heaviest I've reviewed yet, this thing is a beast in terms of weight, you won't be taking it to LAN parties or any place really.
I truly love the hard drive rack setup, they're very easy to access, and the racks come in and out easily.
The tool-less 5.25" racks are nice and easy to use, just twist and pull to remove, line up the drive
I'm sure you noticed the front panel ports are on the top of the case inside of a little pop up door, I personally don't like that setup. If you've got your case inside of a desk, most likely you won't be able to reach those ports, personally where I have my computer I'd have to stand up to reach them, or really stretch. Another problem is that the little door broke for me after only using it a few times, it wouldn't stay shut unless I really slammed it.
Conclusion:
The NZXT Whisper PC case is truly one of a kind in terms of quality, and true to it's name it is very quiet. The hard drive racks are a very nice touch, they're easy to access and having nine of them allows for quite a bit of storage.
The cable management system is nice, it allows you to route the wires around and keep things bit neater and out of the way for more improved airflow.
Overall the Whisper is a very well made case with many, many features that anyone will appreciate.
Pros:
Well made
Easy access to drives
Decent cooling
Places to route cables
Lots of room inside
Cons:
Door broke
Very heavy
| | |
| --- | --- |
| Grades: |   |
| Overall | |
| Design | |
| Performance | |