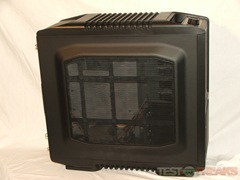 Cooler Master is well known around the world for their products, their cases are especially desired for their build quality. They've recently come out with a new line of products called CM Storm, this line is aimed at gamers specifically, and have features that they think gamers will appreciate.
Today for review I've got the CM Storm Sniper PC case and it's a case that has to really be seen in person to appreciate, but in this review I'll do my best to show you what it look like. I've got a video tour, along with many still pictures for you to see. The CM Storm Sniper is a very well made made case with features that everyone can appreciate, gamer or not. The design definitely has a military look to it, and it's got a built in fan controller along with removable hard drive trays and even a cut out in the motherboard tray for easily swapping out CPU coolers, it's a feature packed case that's well made, and looks great.

The same as the NZXT case review yesterday, I've got a video unboxing and tour of the case for you along with a few still pictures:
The box for the Sniper is attractive as is the case inside, it's also very well packed.
When I first opened the Sniper I wasn't quite sure about it really, the way it looks, but after I got a closer look, inside and out, it grew on me and I now like it very much. The left side panel is mesh, while the right side is plain except for the CM Storm logo.
The front panel is nicely done, the power button is large that you can easily find it in the dark, and the reset button is so small that you won't accidentally hit it. The know that controls the fans works well, and all of the ports are easily accessible.
The Sniper is a bottom mounted PSU style case, so on the back we find the usual stuff, just a bit rearranged, and we also find holes for optional water cooling as well. To the right of the PCI slots we find the Storm Guard security system, essentially you you run your wires for mouse, keyboard etc in through the holes and back out to be plugged in, this stops potential thieves from just walking away with your stuff.
Here are several shots of the inside of the Sniper:
The hard drive trays are removable for easy access, they are plastic and they just snap in and out, no screws needed as there are pins on the inside of the tray.
There's not much to the accessories, just the bare minimum, along with an adapter so you can use a 3.5" device in a 5.25" bay.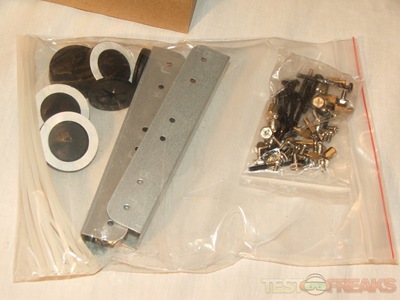 Specifications:
Cooler Master CM Storm Sniper PC Case
CM Storm Website: http://www.cmstorm.com
Storm Sniper – gaming grade ultra mid tower PC chassis.
Storm Tactics – guarantees unbeatable, secure reliability that is completely tuned to gamers' needs. With a total dedication to Strength, Security and Control, Storm Tactics will keep your most vital gear fortified and well tuned at all times.
StormGuard – groundbreaking security prevents your high-end gaming gear from being stolen.
Features:
-Fierce exterior design inspired by military weapons.
-Unprecedented airflow from up to 3 huge fans.
-Next generation control center for tuning your lights and fans.
-StormGuard – ground-breaking security system for safeguarding your gaming peripherals.
-Convenient handle and foot stand for fast and efficient mobilization and relocation.
-Screw-less design for quick upgrades and maintenance.
Specs:
Model: SGC-6000-KKN1-GP
Available Color: Black
Material:     Steel, ABS Plastic, Mesh bezel
Dimension: (L)22.3 x (W)10 x (H)21.7 inches or (L)566.6 x (W)254.6 X (H)551 mm
Weight: 23.42 lbs / 10.6 kg
M/B Type: Micro-ATX/ATX
5.25" Drive Bay: 5 Exposed (without the use of exposed 3.5 inch Drive Bay)
3.5" Drive Bay: 5 Hidden 1 Exposed (converted from one 5.25 inch Drive Bay)
Cooling System:
Front: 200x30mm Blue LED Fan x 1 (500 – 1000rpm, 17 – 23 dBA)
Top: 200x30mm Blue LED Fan x 1 (500 – 1000rpm, 17 – 23 dBA)
(can be swapped for two 120mm fans or 120x240mm Radiator)
Rear: 120x25mm Standard Fan x 1 (1200rpm, 17 dBA)
(can be swapped for 90mm fan or 80mm fan)
Bottom: Supports 140mm Fan x 1 or 120mm Fan x 1 w/ Dust Filter (optional)
Side: Supports 200x30mm Fan x 1 (optional), 120x25mm Fan x 2 (optional)
Expansion Slots: Standard x 7, Special x 1
I/O Panel: USB2.0 x 4; IEEE1394 x 1; eSATA x 1; Mic x 1; HD Audio+AC'97 x 1
Power Supply: Standard ATX PS2 / EPS 12V (optional)
UPC Code: 884102003752

There's a lot of room inside the Sniper case for all of you PC components, I had no problems bettering everything in easily. I have to say that I truly love the cutout motherboard, it makes swapping CPU coolers much easier. In fact the Sniper will be replacing the case of my second system, I had actually cut a hole in the motherboard tray to make testing CPU coolers easier, and it didn't look that good, but it worked. The right panel also makes life easier as it's not flat, it sort of bulges out allowing you to run wires behind the motherboard tray easier, many times I've had to smash the wires down to make sure the panel went back on the case.
The top and front cooling fans both have blue LEDs in them, this does make for an interesting look in the dark from the front and from the side.
Speaking of fans, if you turn them up to full they are fairly loud, too loud for me, but since you've got that control knob right there, you can easily lower the fan speeds if you wish to make things quieter, or if you need that extra cooling power just turn them up.
If you paid attention to the video then you'd know I broke a part of the case, the fan mount on the bottom, not a good sign, but the rest of the case is very well made, just be careful with that bottom mount.
I really have no complaints other than the fan mount that broke so easily, it's very spacious, more than enough room for the largest of systems. There are five hard drive racks which some people might think isn't much, but considering you can get 2TB HDDS now, that's room for ten terabytes of storage, I think that's sufficient for most people.
It is a rather large case, but that's a good thing, at least I think so, even though it's large, surprisingly it's not as heavy as it looks.
Conclusion:
The CM Storm Sniper PC case is an excellent case for the gamer or anyone for that matter, it's very well made, looks good and it's got tons of features that everyone can appreciate.
If you're in the market for a great looking and quality case then I can easily recommend you take a look at the Sniper, you won't be disappointed.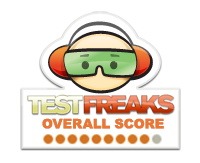 Pros:
Well made
Lots of room inside
Loooks great
Excellent features
Cons:
Bottom fan mount broke very easily
Fans can be very loud
| | |
| --- | --- |
| Grades: |   |
| Overall | |
| Design | |
| Performance | |