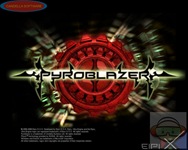 Candella was kind enough to send me over their new game that they're working on in cooperation with Eipix, it's called Pyroblazer, it's a futuristic, sci-fi racing game that is fast and furious. It's going to be available this month, in fact I just got the Press Release today that it has gone gold. So to tide you over till the release I've got a whole bunch of screenshots, a few videos and a basic performance analysis to see how a high end card can handle it.
Pyroblazer is a wild game, if you like sci-fi and racing you'll love this game! When I first played playing, it reminded me a bit of Speed Racer The Videogame, with the wild look to it and fast paced racing, but it's something that totally different, and something that will push your videocard to the limits if you wish to play with all settings on high. I'm using a Diamond Radeon 4870 1gig card and I can't run everything on high without taking a hit to the performance of gameplay.
Since this is a downloaded game there's no box shots or anything like that, but I do have some information for you from the site, along with tons of screenshots and a few in-game movies as well.
Here's a few shots of the options and a peek at the menus with the tracks, vehicles, weapons and pickups. Since this isn't the whole game a few of the items are blacked out, and Single Race is only available, no Campaign mode.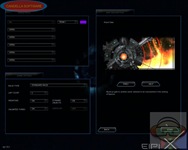 Specifications:
Pyroblazer
Release Date: November 2008
Platforms: PC, Wii and PSP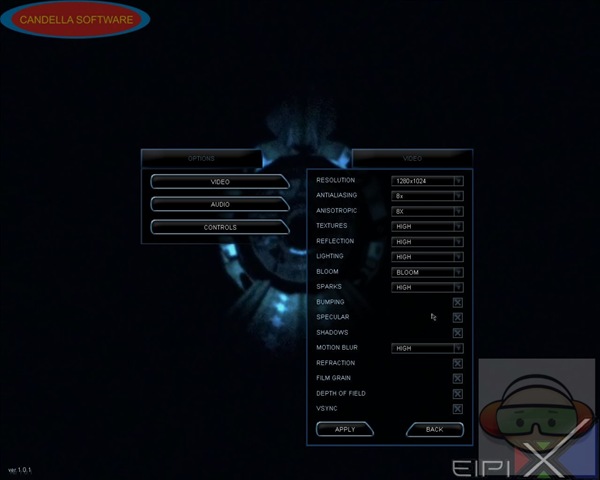 Here's a quick chart of the framrates I got running at 1280×1024 Resolution: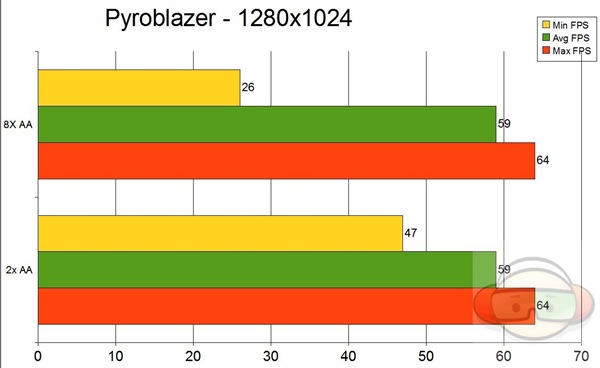 You can see I got an average of 59FPS, but for a truly playable and smooth game you need to keep all of the framerates over 30FPS. All settings high with AA on 2X netted the best performance and appearance overall. The Radeon 4870 with 1gig of ram is a fairly powerful card and that's the results I got so you can imagine using something lower than the 4870 what results you would get, you'll need to turn down and adjust the settings for your card of course to maximize playability.
Ok, here's three movies for you to check out, be sure to check out the scenery as it is very nicely done.
The first movie is with all of the setting maxed out, you'll see how the game slows down quite a bit at points.

Preliminary Conclusion:
Well I can't really make a full call on this game as of yet, but from what's I've seen and played I like it a lot. From the great graphics to the rocking soundtrack, Pyroblazer has got something for everyone, it's fast and fun and looks great.
Pyroblazer  will be hard on the videocard. the results I got were just basic, single player gameplay without the added other ships  or opponents, once they get added in I can see this game requiring a very high end card, Crossfire or SLI to play with all of the settings on high.

Pros: 
Great soundtrack 
Fast and fun 
Great graphics
Cons: 
Will be hard on videocard 


| | |
| --- | --- |
| Preliminary Grades: |   |
| Overall | |
| Design | |
| Performance | |